Category:
Waterford Speedbowl
Heats: Started 1st, Finished: 1st (of 7 cars)
Feature: Started 5th (of 22 cars), Finished 2nd (Finishing Order: 88, 51, 13, 47, 27, 6, 78, 59, 36, 7, 98, 15, 66, 77, 3, 49, 22, 72, 43, 17, 20)
Comments:Overcast and 70 degrees at noon – sun should break out in the afternoon after the cold front passes. Track conditions should be different this week given NEMA Lites – I have my thoughts on what they will do to the track and we'll see if I'm right later.  Some GREAT photos were taken by Don's wife Jen last week and you can see them on Facebook HERE.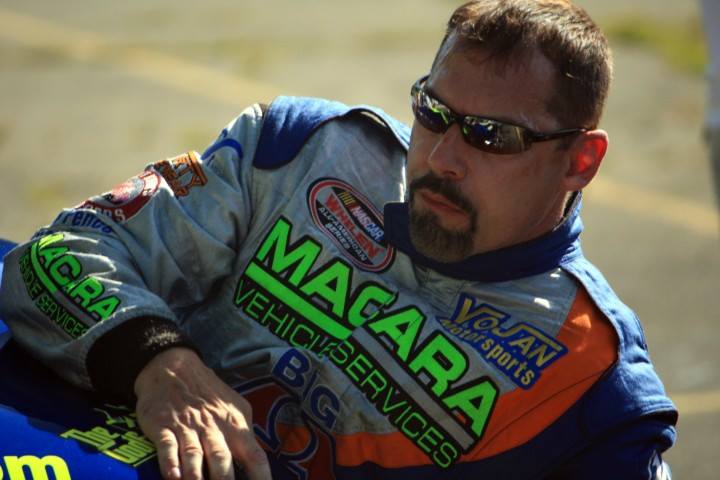 Car was surprisingly bad during practice. Very tight on entry which is a carry over characteristic from last week, but not the earlier weeks. We made some changes to reverting back to a setup we had prior to last week which should free the car up.
Heat yielded great news – we did the right changes and got our speed back. Rob took the lead on the back chute of the first lap and never looked back taking down heat win #4 of the season – beat the dominate 88 of Rocco: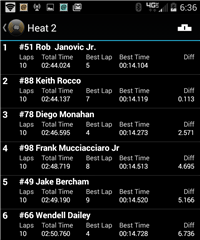 Feature starting lineup is as follows:
47 – 7
72 – 36
51 – 27
6 – 78
88 – 43
59 – 13
77 – 49
15 – 66
22 – 98
17 – 3
25 – 4
Feature race was a hairy race with lots of close calls. Early on the 72 who was running 3rd I believe was losing some kind of fluid and Rob's windshield was getting covered – 72 got black flagged which solved that problem. First caution came with 14 laps to go and Rob restarted 3rd. The car was better – a tick free though. The front 3 cars were checked out for a while with an 8-10 car lap lead before the rest of the field. The 88 was coming hard and got to the front using the outside groove (very strong run for Rocco). Rob was running hard but couldn't catch Rocco. Next caution comes with 2 laps to go and Rob restarted 2nd. On the restart the 47 was 3rd and the 13 of last week's winner Christopher was 4th behind Rob. The 47 got into Rob's right rear going into turn 1 and that got a little scary, but Rob saved it. The 47 got VERY crossed up coming out of turn 4 twice and I have no idea how he saved it. We'll take the podium finish and look for a better run next week. Wish co-owner John Volpe's father could have seen tonight's run – he would have loved it. I'll post Sid's video later this weekend. Lap times were good and Rob was 2nd quickest turning a 14.209 second feature lap (Rocco turned a 14.066 lap)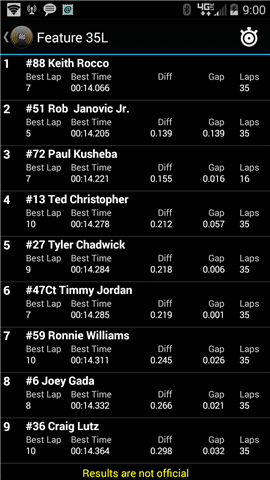 Don't forget, next Saturday, we have DOUBLE Features for SK Modifieds!!