Category:
Waterford Speedbowl
Heats: Started 7th, Finished: 5th (out of 9 cars)
Feature: Started 8th (of 18 cars), Finished 2nd (Finishing Order: 47ct, 51, 13, 88, 27, 36, 7, 78, 3, 43, 17, 98, 48, 15, 66, 72, 4, 44(DQ))
Comments: Partly cloudy day, but nice enough without the threat of weather. Practice rounds were great and we're glad to say our carburetor or ignition issue that persisted last weekend is now solved. Rob laid down the 2nd fastest SK Modified practice lap time with the 88 of Rocco being at the top of the speed charts.
Heat race should be a challenge as Rob needs to finish in the top 5 to get his handicap. After last week's 2nd place finish, our handicapping is going to put us starting near the end of the top tier of cars (around 11th or 12th). Heat race lineup is as follows: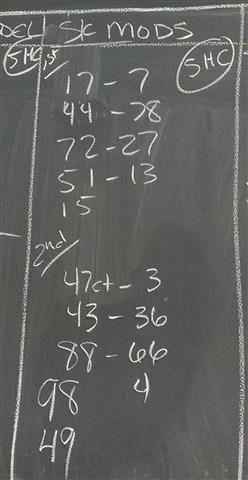 Feature race was tough with outside row 8th place starting position and the cars that had the worst finishes last week starting up front (due to handicapping rules). The first caution came quickly on lap 1 and Rob restarted 8th with some damage to the front bumper. Next caution came and Rob was up to 5th. There was some hard racing up front between the 47CT and 13 – instead of laying back, Rob staid tight running with the leaders and that forced the 13 of Christopher to run the outside trying to get around the 47CT but he just didn't have the car to take the lead. The final caution came with 4 laps to go and Rob restarted 3rd with the 41 of Jordan in the lead and the 13 of Christopher in 2nd. Jordan was able to hold off the 51 and take down his first SK win at Waterford.
Rob set fast time again in the feature event – here's the top 10's lap times: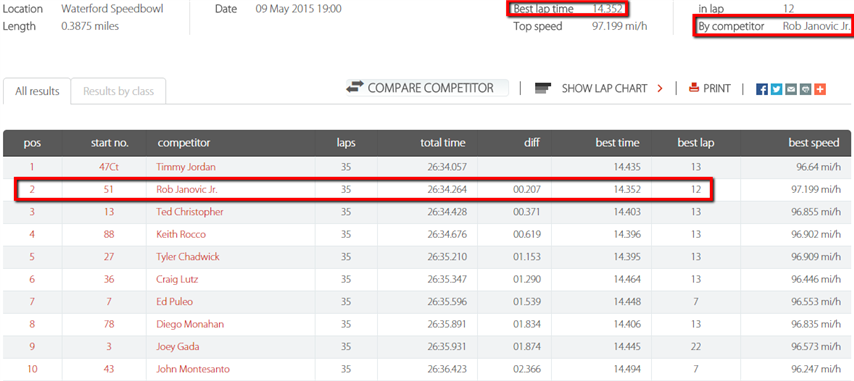 Post race interview:
Sid's View Race Video:
Update 5-11-15 Tire Rules Infraction: During post race inspection, an unregistered tire was found on the left rear of our car. Officials and I as the crew chief checked the registration slips, I then invited the officials to our trailer and inspect ALL of our tires including unused inventory and even shared our team's track notes with them. It was found that instead of registering 8 new tires on opening weekend, I made a clerical error and only 7 new tires were registered (instead of 8 new) and the 8th tire I submitted for our initial 2015 season inventory was in fact an old 90 lap tire used in the 2015 racing season finale/used in practice on the previous day Friday May 1st. The old tires were dismounted Saturday May 2nd so we could mount our new tires. Somehow, when I was recording our 8 new tires, I recorded one of the old tires and I left off our registration slip 1 of the new tires! Since 8 new tires were legally purchased, the 8th new tire showed up as an "unregistered" tire during last Saturday's post-race inspection creating a rules infraction.
We understand that "rules are rules" (excuse my sarcasm, but the race officials can't really apply common sense since a rules violation did in fact occur) so the 51SK was given a 1 lap penalty and the unregistered tire was taken….Talk about a kick in the balls after a great run. We might as well flush the 51SK's season down the toilet for my stupid clerical error.
For the record, there was:
1) No competitive advantage (all teams had access to new tires being just the 2nd week of season),
2) No illegal part being used in competition (i.e. an acid dipped intake manifold used by the 13 team in the opening event),
3) No misconduct by the driver or any team member on or off the track,
4) No intent (i.e. unapproved tire change during a race) and the paper trail clearly shows there was no attempt atcheating
5) There was an abundance of evidence proving the team only registered 7 new tires and 1 old 90 lap tire in error after legally buying 8 tires to begin the season
We're supposed to "understand" and appreciate the ruling – I wish I knew how to not let my error and subsequent penalty bother me. We've been doing this for 28 years as a team and this is the first time we've had a rules violation penalty. To all of the 51SK modified fans, I'm sorry for the error and thank you for your support.