Janovic hangs on for 1st SK win of season
8/17/14
By Marc Allard mallard@norwichbulletin.com
Despite two spins in the 35-lap SK Modified race, Rocco had worked his way back through the field to second with one lap to go.
It wasn't enough time for the division points leader to catch Waterford driver Rob Janovic Jr., who took home his first win of the season and first since June 22 of last year.
"When my spotter told me the 88 (Rocco) had broken into second, I said 'Come on, no caution.' I knew that we had it as long as we went green. I know it would have been fun to race Keith for the win, but I would rather not," Janovic said.
Janovic took the lead away from Shawn Monahan on the 11th lap by going outside the No. 31 car through the second turn. He had to weather four restarts and challenges not only from Monahan and Rocco, but Plainfield's Tim Jordan who finished third.
---
Back Out Front: Rob Janovic Snaps Year Long Winless Streak With SK Modified Win At Waterford
June 22, 2013 By Shawn Courchesne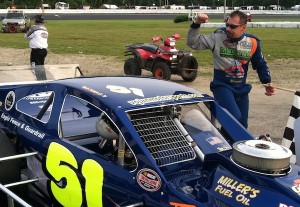 Rob Janovic Jr. shed himself of a heap of frustrations Saturday at the Waterford Speedbowl. He's just hoping that it doesn't take another 12 months to have another frustrating shedding evening at the track. Janovic won the 35-lap NASCAR Whelen All-American Series SK Modified feature Saturday at the Waterford Speedbowl. Ed Puleo of Branford was second and Todd Ceravolo of Gales Ferry third.
It was the first victory for Janovic since June 23, 2012. The Waterford driver said he had a good feeling in the day's leading to Saturday's event that his winless streak would be coming to an end.
"Going into this week we got a lot of the wrinkles ironed out, we won this race last year," Janovic said. "I knew I was going to be starting up front. I'd much rather win from 15th, but I knew we had a good starting spot. All week long I had a pretty good feeling. I'm just thankful that those good feelings transitioned into a win." Janovic started third in the event and immediately went to second past Shawn Monahan at the start. With 26 laps left he was able to go by Joey Gada for the lead. He was never challenged at the front again. "That was 35 laps of me holding my breath," Janovic said. "I knew I had to get the lead early. Joey Gada has been fast and he was fast today. So I wanted to try to get out to the lead as quick as I could and set my own pace. Then my spotter did a great job just talking me through it." Since a third place finish in the season opener at Waterford, Janovic had not finished better than sixth over the last eight events coming into Saturday, a stretch that included four finishes of 18th or worse. "It's been very frustrating," Janovic said. "As far as I'm concerned it's been a double-whammy. I've had my own problems. I had fuel problems, I had electrical problems, I had handling problems. That aside, the racing, there's been no give and take. There's guys that are out there going down the chutes like a windshield wiper. I don't know if it's the additional horsepower that we've got now, or lack of talent, or lack of experience I should say. But it just doesn't feel like it did years ago when there was give and take and mutual respect amongst drivers that were either footing the bill themselves or at least had a financial stake in their cars."

---
VoJan Motorsports Recieves "Pit Crew of the Year" for 2012 Racing Season
January 12,2013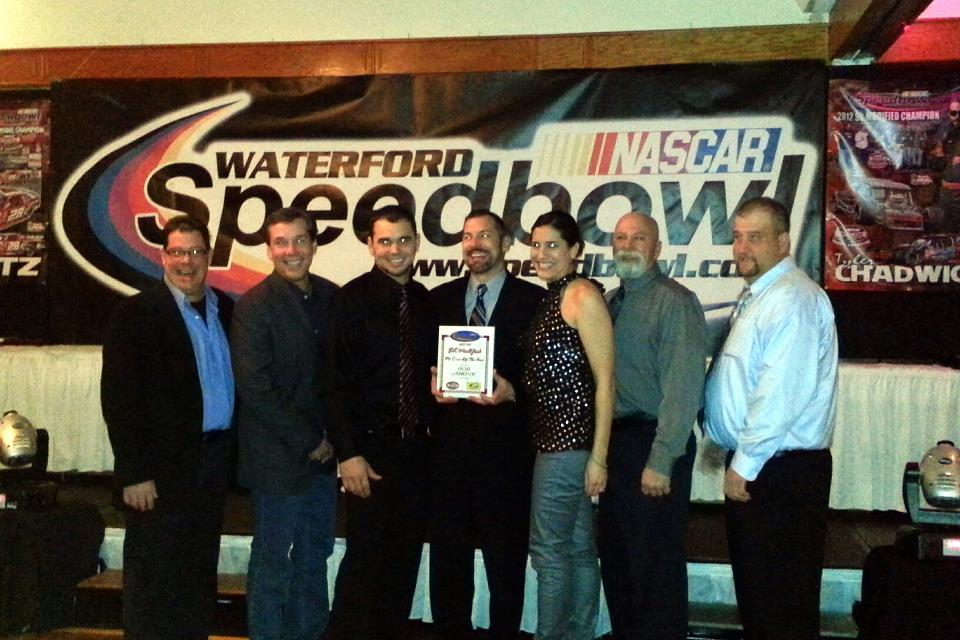 At the 2012 Waterford Speedbowl awards banquet, VoJan Motorsports SK Modified team was awarded the 2012 SK Modified Pit Crew of the Year Award from the Speedbowl staff. The award was rooted in the team's ability to come back and compete at a high level a number of times during the 2012 racing season after their primary race car got destroyed in heavy wrecks. "How we responded speaks volumes about who we are" commented Greg Hanner the Crew Chief for the team. It's not easy to come back and stay focused on getting back to the front. I understand how some can lose there minds and why they carry grudges towards those who caused the original wrecks, but that's just not how we roll or who we are. VoJan Motorsports looks to run among the top teams and SK drivers in the 2013 racing season. The competition is really good, but you don't have a chance at consistently running up front if you don't have the full package in terms of loyal sponsors, a good team capable of bringing a car to the track that's finely tuned and well prepared, and a driver that knows how to get the job done and how to be passively aggressive.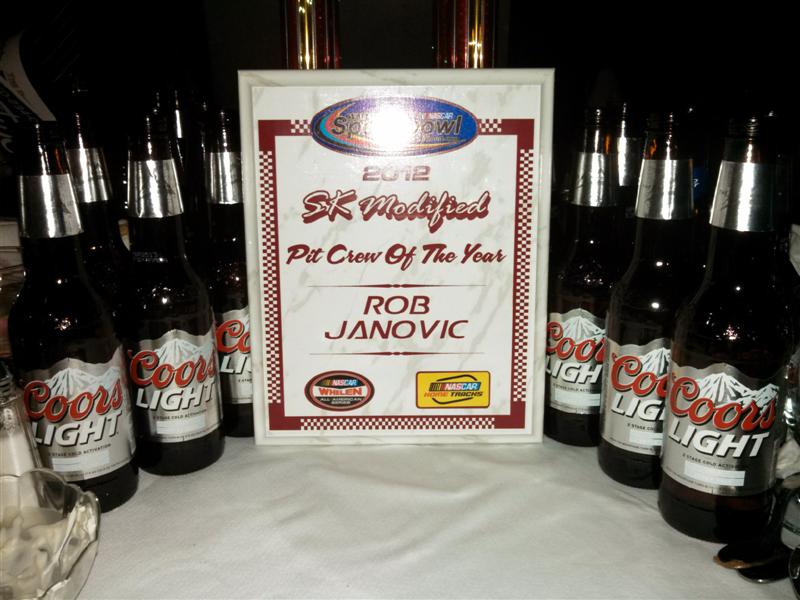 ---
Second To None: Rob Janovic Jr. Breaks Runner-Up Streak With SK Mod Win At Waterford June 23, 2012
www.RaceDayCT.com By Shawn Courchesne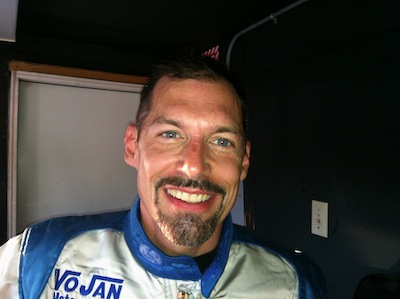 WATERFORD – Second place finishes usually aren't cause for frustration for drivers.
Second To None: Rob Janovic Jr. Breaks Runner-Up Streak With SK Mod Win At Waterford Though for Rob Janovic Jr., being the runner-up was getting just a little bit old this season.
Coming into Saturday night's SK Modified feature at the Waterford Speedbowl Janovic was riding a streak of three consecutive second place finishes and the frustration was setting in.
Saturday Janovic, of Groton, left the frustration behind. Janovic held off Jeff Pearl on a green-white-checkered finish to win the 35-lap NASCAR Whelen All-American Series SK Modified feature at Waterford.
Pearl, of Salem, held on for second and Kyle James of Ashaway, R.I. was third. It was the first victory of the season for Janovic.
"There are second place finishes that you're thrilled about," Janovic said of his streak of runner-up runs. "And there are those second place finishes that you just feel like you left something on the table or you just came up one spot too short. If you start dead last and finish second it's a great night. If you get up to second and you know you've got the faster car, you know you're faster than the leader, and then when that happens three weeks in a row, you start wondering, what do I have to do be the one in the front?
Saturday Janovic went past James for the lead with 19 laps left and went untouched the rest of the way.
"We've gotten the car dialed in," Janovic said. "The only thing we've been doing on Saturday's was just very small adjustments. It makes a big difference because we haven't been coming to the track having to fix a handling problem, only tune on it.
"We've been coming from deep in the field, getting up to second in the closing laps, and there's nothing to do short of moving the leader out of the way, which isn't my style. Tonight we grabbed the top spot early and I was able to show how fast this car is."
Janovic had built a big lead over Pearl before the caution flew with two laps left to add a little drama at the end.
"Like I needed to make it any more exciting for myself," Janovic said. "Green-white-checker. Really? After all this I get green-white-checker."
Said Pearl: "We had a really good car for two laps. We missed on the setup just a little bit. But the thing ran really strong. [Janovic] was on his game tonight. It's good to see him get a win finally and get up there with everybody else."
---
Crowd packs Waterford Speedbowl for Whelen Tour race
Norwich Bulletin By MARC ALLARD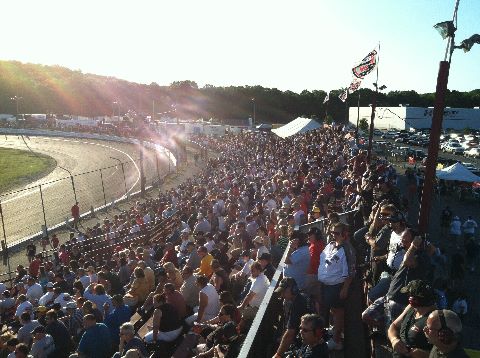 Rob Janovic Jr., of Waterford, started off the night by breaking a string of second-place finishes. Janovic, from Waterford, took the SK Modified 35-lap checkered flag after three straight weeks of serving as the bridesmaid to the winner. "The key (Saturday night) was just getting through traffic early and I could sniff the lead, I could see the lead early on in the race and then I just went for it as hard as I could," Janovic said.
The Waterford driver took the lead on lap 17 and, after two restarts, began to pull away until a caution flag with two laps to go when the 23 car spun in Turn 4.
"Like I needed to make it any more exciting for myself, green, white, checkered, really? After all this, I get a green, white, checkered? My only thought was at least the fans will enjoy it," Janovic said.
Janovic was successful in holding off Salem's Jeff Pearl for the victory.
Janovic ends SK Modified® draught, snaps Rocco win-streak;
Waterford, CT (August 6, 2011) – Waterford Speedbowl successfully beat the weather forecasters and Mother Nature, getting a five-division program in against looming weather. In NASCAR Whelen All-American Series action, Rob Janovic Jr. of Waterford snapped a draught that dated back to August of 2009 to score his first win of the season in the SK Modified® division.
Janovic started the 35-lap SK Modified® feature in third position, quickly moving up to second position in the opening lap behind Nichole Morgillo. Janovic wasted no time in his pursuit of the lead, diving underneath Morgillo on lap-3 in turn one to successfully take over command. Further back, the field made contact down the back chute with Diego Monahan receiving suspension damage. As Monahan slowed, caution waved on lap-4 as Glenn Pressel spun from the top-five in turn two.
Janovic took off into the lead on the restart with Morgillo settling into second. Tyler Chadwick was up to third fending off Keith Rocco, in pursuit of a record sixth straight Modified victory at the track. Kyle James was also in the mix, racing in tight quarters underneath Rocco, who continued to try and work Chadwick for third. James held his groove, eventually dropping Rocco back to fifth position as the race stayed under the green flag.
Janovic stretched his lead to as much as a half straightaway ahead of a tight battle for second that saw Morgillo receiving pressure from Chadwick. James was on Chadwick's bumper waiting for a chance to advance. Green flag racing prevailed through lap-20 when Harry Rheaume spun to bring out the yellow flag, resetting the field for a restart.
Janovic again pulled out ahead of Morgillo when racing was back underway. Morgillo was left to battle with Chadwick who filled the gap to her inside following the restart. Chadwick was able to get by, putting Morgillo back to third. James pressured the outside of Morgillo, moving past into third position when caution waved again for Rheaume on lap-24 for a spin on the front chute.
That proved to be the final restart Janovic needed to nail, which he did. He beat Chadwick to turn one, then held on for a lap as Chadwick tried to mount a challenge. He could not, eventually dropping in line behind the leader for the final green flag run. James was third looking strong. Morgillo held fourth ahead or Rocco, who turned up the heat over the final laps for the position. While Janovic went unchallenged to the win, Chadwick and James crossed the stripe in second and third position. Morgillo kept Rocco at bay to take fourth over him at the checkered flag.
---
Rob Janovic Jr. Ends 45-Race Drought With Win At Waterford
By SHAWN COURCHESNE, The Hartford Courant 10:11 p.m. EDT, August 6, 2011
WATERFORD — At Indianapolis Motor Speedway, the tradition for drivers after winning in NASCAR is to kiss the yard of bricks on the track at the start/finish line.
Rob Janovic Jr. started his own kissing tradition Saturday at the Waterford Speedbowl.
The mission for Janovic was to find Glenn Colvin, the man who built the motor for his SK Modified. After snapping a two-year-plus winless streak, Janovic wanted to make a special delivery to him. "Glenn Colvin, oh, man. He's going to get a big fat kiss from me later," Janovic said in Victory Lane.
Janovic, of Waterford, took the lead from Nichole Morgillo on the second lap and never trailed again on the way to victory in the 35-lap NASCAR Whelen All-American Series SK Modified feature. Tyler Chadwick of Ledyard was second and Kyle James of Ashway, R.I., third.
The victory snapped a 45-race winless streak for Janovic, dating to Aug. 1, 2009. It also proved the ultimate confidence builder for the 2007 SK Modified champion at Waterford. "So many times in the last year and half or so, I've just wondered, 'Why am I still doing this?' " Janovic said. "We'll have a second or a third or a good night, and that feels really good, but I think I needed to get back into Victory Lane. Right when I crossed the start/finish line I said over the radio to my crew, 'We'll get more this year.' We've broken the ice, the car is fast, we're going to get more. We're not done with this one. It was huge. I needed to get over that hump and get that first win again."
After taking the lead Janovic survived four restarts, keeping a charging Chadwick at bay each time.
"It feels great, but what feels even better is that we made some changes to the car and I think we finally hit on something," Janovic said. "We were the fastest in practice, we were the fastest in the heat races and I would have felt sick to my stomach if I squandered the opportunity with the fastest car on the track. That's what feels the best of it. I hate to say winning isn't everything, but I'll tell ya what, it feels pretty sweet."
And the kiss? Janovic delivered. "I gave him a big, fat, sweaty one," Janovic said.
Whelen All-American Series national points leader Keith Rocco of Waterford finished fifth after being involved in an accident early. It snapped a five-race winning streak at Waterford for Rocco.
---
Rob Janovic Jr. To Take The SK Modified Field To The Green At Waterford Budweiser Blastoff
By Shawn Courchesne on April 2, 2011 5:57 PM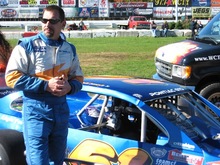 WATERFORD – It was the number Rob Janovic Jr. didn't want to see at the end of the 2010 racing season: A zero in the win column in the NASCAR Whelen All-American Series SK Modified division at the Waterford Speedbowl. It marked the first time since 2001 that Janovic, of Groton, went a season without a victory.
Sunday Janovic will be in prime position to get himself back in victory lane for the first time since 2009. Janovic will start on the pole for Sunday's 61-lap SK Modified feature, part of Budweiser Blastoff weekend at the Waterford Speedbowl.
Defending SK Modified division champion at Waterford and the 2010 Whelen All-American Series national champion Keith Rocco of Wallingford will start second.
Justin Gaydosh of Newtown will start third. Eighteen cars will take the green flag.
In the 50-lap Late Model feature it will be three-time division champion Bruce Thomas Jr. starting from the pole. Norm Root Jr. of Old Saybrook will take the field to green for the 30-lap Street Stock feature and Ian Brew of Wood River Junction, R.I. will start from the pole in the 30-lap Mini Stock feature.
Starting lineup for Sunday's 61-lap NASCAR Whelen All-American Series SK Modified feature at the Budweiser Blastoff at the Waterford Speedbowl
1. Rob Janovic Jr., Groton
2. Keith Rocco, Wallingford
3. Justin Gaydosh, Newtown
4. Ron Yuhas Jr., Groton
5. Diego Monahan, Quaker Hill
6. Tyler Chadwick, Ledyard
7. Tucker Reynolds Jr., Westbrook
8. Jeff Pearl, Salem
9. Joe Perry, Ashaway, R.I.
10. Nichole Morgillo, Yalesville
11. Kyle James, Ashaway, R.I.
12. Tom Abele Jr., Norwich
13. Jeff Gallup, Agawam, Mass.
14. Frank Mucciacciaro Jr., Milford
15. Joe Gada, Salem
16. Gregg Hurley, Beverly, Mass.
17. Randy Churchill Jr., Oakdale
18. Glenn Pressel III, Gales Ferry
---
Chadwick goes back-to-back in SK Mods;
Waterford, CT (August 28, 2010) – Waterford Speedbowl returned to action on Saturday with another round of NASCAR Whelen All-American Series racing on Night of Electricity, presented by Electrical Contractors Incorporated. Tyler Chadwick of Ledyard won his second consecutive SK Modified® race and third on the season. Doug Coby raced to the lead on the initial lap of the 35-lap SK Modified® feature race coming from his second starting position. Joe Perry settled into second ahead of Joe Gada, Todd Ceravolo and Chadwick over the race's opening circuits. The field quickly singled out and clicked off the early laps.
Just outside the top five, Tucker Reynolds Jr. challenged and took sixth position from Jeff Pearl on lap 12. The leaders began jostling for position, first with Chadwick finding his way around Ceravolo to fourth. Moments later, Gada slipped inside Perry for second and brought Chadwick and Ceravolo both by Perry on lap 13. That action was slowed when point leader Keith Rocco spun in turn four while battling in the back half of the top ten. Rocco, Pearl and defending champion Ron Yuhas Jr. were among those headed pit-side for adjustments during the caution.
Coby controlled the restart over Gada. Chadwick was able to slide by Gada and close to Coby's bumper, leaving Gada behind in third. Ceravolo pestered Gada, finally making a strong move inside the teenager on lap 18 to take third spot and give chase on the top two. Nichole Morgillo spun between turns one and two collecting Kyle James to slow the race on lap 21. Reynolds and Yuhas visited pit road under caution and resumed from the rear.
Coby nailed the restart over Chadwick, enabling Ceravolo to come up to second. Chadwick fended off Jeff Paul for third while Rob Janovic took fifth from Gada a lap later. A hungry Ceravolo pressured Coby's rear bumper over the next several laps in effort to put himself in position to capture his first win of the year.
The pivotal moment of the race came on lap 28. The battle out front heated up when contact sent Coby spinning into turn one. Ceravolo was penalized to the rear for his involvement, handing the lead to Chadwick.
Paul lined up to Chadwick's outside for the restart. Paul couldn't challenge, with both Janovic and Rocco making their way by into second and third by lap 31. Caution came out again that lap for a spin in turn four by Jimmy Smith.
Chadwick and Rocco teamed up on the restart to bump Janovic back to third. Chadwick was a car ahead of Rocco on lap 33 and as the final lap began, Rocco was on the leader's rear bumper. Chadwick held back the charges of Rocco to record his third win of the season and second consecutive. Janovic was third ahead of Paul and Gada.
---
Rocco finds Winner's Circle again;
Waterford, CT (August 7, 2010) – An exciting round of NASCAR Whelen All-American Series racing took place Saturday night at Waterford Speedbowl, presented by The Rock 106.9 WCCC. Keith Rocco of Wallingford bested Todd Ceravolo of Gales Ferry for the second consecutive week to win another exciting SK Modified® feature.
Tom Abele Jr. and Joe Perry were the early pace setters for the 35-lap SK Modified® race. The first 13 laps clicked off in rapid fashion with third through fifteenth place locked in battle to advance their position. That run ended when Diego Monahan, battling within that pack, made contact with the backstretch wall and slowed in turn four to bring out the caution flag. Abele continued to lead over Perry, Glen Pressell III, Rob Janovic Jr. and Rocco, who advanced from his starting spot deep in the field as the race reached halfway. Janovic and Rocco made their way under Pressell as the field completed lap 18. Trouble just behind the top five saw defending champion Ron Yuhas Jr. spin between turns one and two, collecting Tyler Chadwick and Kyle James to bring out the yellow.
On the next restart Janovic and Rocco were able to rocket under Perry for second and third behind Abele. Todd Ceravolo moved into the top five on lap 20 and joined the mix up front. Janovic tried an outside move on Abele for the race lead. That gave Rocco opportunity to dive under Janovic for second. Those two raced side-by-side while Ceravolo went outside Perry for fourth.
As Janovic tried to make the outside lane work, Abele drifted up slightly exiting turn two on lap 25 allowing Rocco a look at the lead. Rocco made the move and cleared Abele, bringing Janovic and Ceravolo with him past Abele to make up the top three positions on lap 26. A caution for a spin in turn two by Jeff Gallup on lap 29 set the field for a restart.
Ceravolo took second from Janovic. He tested Rocco with a bump in turn three, giving Janovic a lane to challenge to retake second. Ceravolo and Janovic battled for second until Perry spun from fifth in turn two on lap 32 which created a multiple-car incident that collected Doug Coby, Frank Mucciacciaro, Pressell as well as both Joe and Adam Gada.
The final restart pitted Rocco versus Ceravolo, with Janovic in third for a rematch of last week's shootout among the three. Rocco got the jump on the green flag with Ceravolo able to quickly tuck in behind ahead of Janovic into turn one. Ceravolo stayed glued to Rocco's bumper for the next two and a half laps, trying to disrupt the leader's rhythm. Janovic was in striking distance to pounce on any mishap.
Ceravolo made a move to the outside of Rocco headed into turn three of the final lap. He was able to pull alongside in a sprint to the finish out of turn four. Ceravolo fell a half-car length short at the checkered flag, while Rocco recorded his second consecutive and ninth Speedbowl win of the season. Janovic, Abele and Jeff Paul completed the top five.
---
Waterford, CT (July 31, 2010) – Beautiful weather graced Speedbowl fans enjoying Saturday night's NASCAR Whelen All-American Series racing program. Keith Rocco of Wallingford outdueled Todd Ceravolo of Gales Ferry in a thrilling SK Modified® finish.
The 35-lap SK Modified® race had trouble getting underway with two false starts for cars suffering mechanical woes, however when racing began Glen Pressell III used his pole starting position to take the race lead over Tom Abele. The field behind jockeyed for position with Kyle James emerging third, Rob Janovic Jr. into fourth and Rocco to fifth in the opening five laps. A gaggle of cars raced behind including Tucker Reynolds, Todd Ceravolo, Diego Monahan, Doug Coby, Tyler Chadwick and Ron Yuhas among others. That pack diced for position with Ceravolo lightning his way through to join the top five on lap 9. Ceravolo immediately jumped outside Rocco for fifth, using the outside lane to ultimately pass by the entire top five in impressive fashion to become the new race leader on lap 14. Rocco, Janovic and Abele followed suit using the outside lane to clear Pressell once Ceravolo was out front. Caution finally slowed the action on lap 15 for a spin at the back of the field.
Ceravolo bolted out to the lead over Rocco when racing resumed. James dropped from the top from contention when his car began smoking heavily, retiring to the infield just past halfway. Janovic and Abele sat third and fourth behind the top two with the best battle on the speedway for fifth position as Pressell fended off both Chadwick and Yuhas. That action heated up, resulting in Pressell going around in front of the field off turn four on lap 26 to bring out the caution flag. Contact sent several pit side including Pressell and Yuhas with flat tires and Jeff Pearl for rear end damage. Joe Perry was towed from the scene and was done for the night.
The top three raced single file following the caution with Chadwick coming through to fourth and Monahan to fifth as the race hit five laps remaining. Abele spun into turn three battling for sixth with Shawn Solomito and Coby to bring out caution on lap 31 and set up the wild finish.
Ceravolo held his lead on the restart, but Janovic took second from Rocco. The final caution flew for Solomito who made contact with the frontstretch wall and slowed, setting up the pivotal final restart. With the green in the air Ceravolo kept Janovic at bay to his outside, but it was Rocco who bolted inside the leaders down the front chute to turn one. Rocco raced to the inside of Ceravolo with the pair battling hard for the win. There was no shortage of excitement over the final two circuits with sparks between the two racing for the win. Ceravolo slipped in turn one of the final lap to the outside of Rocco, enabling Rocco to go on to the checkered flag. Coby steered through all the action over the final laps to score second, with Yuhas coming back for third. Ceravolo ended up fourth with Chadwick fifth.
---
May 29, 2010 – Saturday 5/29 NASCAR Whelen All-American Series Results Saturday 5/29 NASCAR Whelen All-American Series Results – Gaydosh enters winner's circle with SK win; Esposito, Stone and Caron other winners
Waterford, CT (May 29, 2010) – Waterford Speedbowl was in action on Saturday evening as part of their Memorial Day Weekend of events, hosting the visiting ISMA Supermodifieds for a 50-lap race plus a full card of NASCAR Whelen All-American Series racing. After waiting out a brief rain delay, racing action saw Newtown's Justin Gaydosh pick up his first victory of the year in the 35-lap SK Modified® event. Vin Esposito of Seymour wired the 30-lap Bob Valenti Auto Mall Late Model feature, securing his first win of the year. New Haven's Al Stone III took his second win of the season in the 25-lap Street Stock feature, while Sean Caron of East Hampton also became a two-time winner after taking the 25-lap Norwich Bulletin Mini Stock checkered flag.
A thrilling SK Modified® feature began with Gaydosh setting the early pace of the race with Joe Perry behind in second place. Diego Monahan was third, while a battle for fourth broke out between Mark Bakaj, Shawn Solomito and Rob Janovic Jr. Bakaj won that battle, bringing Janovic with him to make up the top five in the early going. Further back Ron Yuhas Jr., Keith Rocco and Tyler Chadwick were battling in an effort to enter the top ten. After Rocco had just edged ahead to the inside of Yuhas he tangled with Tom Abele Jr. on the front stretch on lap nine, spinning into turn one. Rocco resumed from the rear after pitting for repairs.
Gaydosh resumed his lead on the restart. Janovic went from fifth to third, taking that spot away from Monahan on lap 13. That opened the door for Kyle James and Tyler Chadwick to enter the top five and race their way past Monahan. Yuhas was hot on their tails when the second caution waved later that lap for Jeff Gallup who had spun in turn four.
Gaydosh got the jump when the green flag returned, bringing Janovic to second past Perry as the race reached halfway. The racing throughout the top ten cars was tremendous over the next several laps. Chadwick, last week's winner Jeff Paul, Yuhas and Jeff Pearl all found their way by James who was slipping back in the outside lane by lap 18. Paul wasn't content and jumped out of line looking to the outside lane to advance his position further. He would get caught in the high groove, enabling Yuhas and Pearl to get by his inside on lap 19.
Just ahead of that action, Chadwick challenged and got by Perry for third that same lap. Yuhas and Pearl followed and got by Perry as well. They made up the new top five behind Gaydosh, Janovic and Chadwick as the race reached lap 20. Pearl wasn't done and jumped to the outside of Yuhas, taking over fourth place on lap 22. The jockeying for position among that pack was halted when Bakaj spun on the backstretch working lap 25, setting up the final restart.
Gaydosh trumped the restart again with Janovic tucking in behind. Janovic tried several moves on the leader, looking high and low but unable to find the one needed to pull alongside. Further back, Yuhas was inside Pearl trying to reclaim fourth with five laps remaining. Rocco was on their bumpers after charging back through the field.
Janovic finally got a wheel outside Gaydosh with three laps to go, racing to pull even down the backstretch. Gaydosh held off the challenge momentarily but slipped off turn four headed to the white flag, allowing Janovic one last opportunity. Janovic could not make an outside move into turn one stick and Gaydosh went on to a highly entertaining victory. Chadwick was third at the finish, while Pearl nipped Yuhas for fourth. Rocco finished in sixth but maintained his points lead.
---
Waterford Speedbowl: Janovic Keeps Streak Alive
By PETER VANDER VEER, Norwich Bulletin, Aug 01, 2009 Rob Janovic took his first trip of the year to the Speedbowl's Victory Lane by taking the 35-lap NASCAR All-American Series SK Modified feature Saturday night. Janovic kept his streak of winning at least one feature per year since he began racing at Waterford in 1996. It definitely wasn't a textbook race, but, nevertheless, Janovic was pleased with his efforts as he first had to hold off a charging Keith Rocco and then he needed to transform all those years of experience into a victory.
Starting from the pole, Janovic felt Rocco's presence as soon as the national points leader could get to his back bumper. Rocco gained what turned into a temporary, but not official lead, with seven laps remaining. He got by Janovic with a power move to the bottom in turn four, but before he could reach the start-finish line, the yellow came out for a spinning Glenn Griswold in turn one. On the following restart, Rocco and Tyler Chadwick, who ran as high as second, tangled in the third corner. Both were through for the night. Over the closing laps, Janovic was able to fend off Yuhas who looked several times to the outside, but wasn't able to make the pass. "When you start on the pole, you're either a hero or a zero, it's up to you," Janovic said. "(Saturday) we got the monkey off our backs. I hadn't won a feature since early in the 2008 season. "This win is a credit to our team and Greg Hanner (his brother-in-law and spotter)." "I really don't know why, but the outside groove wasn't there (Saturday)," said Yuhas, who's closing in on Rocco for the points lead. "It was awful.
---
Janovic Wins His First 2009 Season SK-Modified Race
Winning driver: 'We got Magilla Gorilla and his family off our back'
By Owen Poole, The Day, 8/2/2009
After thanking his crew, his fans, his mother, his wife and his sponsors on the Waterford Speedbowl track Saturday night, Rob Janovic Jr. turned to track announcer Matt Buckler and asked, 'Do you have any questions for me or can I just go on?'" The affable Janovic won his first race of the year and provided his sizable rooting contingent with a number of sound bites following his win in the 35-lap SK-Modified feature.
Janovic won from the pole and survived a scary crash right behind him that ended the nights of Keith Rocco and Tyler Chadwick, Janovic's godson. "I felt awful for my godson," Janovic said. "You don't want to see anyone wreck. We started 1-2 and we wanted to finish 1-2. We talked about that." Rocco and Chadwick were chasing down Janovic and both appeared to have cars capable of winning before they got into each other and went into the wall in Turn 3.
Janovic, the 2007 SK-Modified track champion, survived a restart with seven laps left and held off a late charge from Ron Yuhas Jr. for the win. "A lot of people talk about getting the monkey off your back," said Janovic, who hadn't won since early last season. "Well, we got Magilla Gorilla and his family off our back. The biggest thing is I've won a race here every year, going back to 1996. I'm always good for one. This kept the streak alive. "(Saturday) felt like it used to. The car was as good as it's been in a year and a half. We've struggled with a couple of different things this year and I think we've leveled them out. I think we have something to work on here.
---
Waterford Modified Ace Eyes True Value Modified Series:
True Value Modified Racing Series Press Release 3/6/09 All it takes is one minute of conversation with Waterford, CT; SK Modified standout Rob Janovic, Jr and he'll quickly point out, "I have been eyeing that series since it started." That series, the 2007 Waterford track champion is focused on, is the True Value Modified Racing Series, and Janovic, with his race team, VoJan Motorsports, has decided to "dip our foot in the True Value pool."
The 45 year old auto dealership manager has done his homework in advance of the team's decision to give the True Value series a shot. The 2008 Waterford "Sportsman of the Year" award recipient has paid particular attention to rules, and how the sixth year tour operates. Janovic likes what he's seen, and what he's heard, even more.
"I've known Mike Holdridge for a long time, we talk often, and he keeps telling me I have to give this tour a try." Holdridge, coming off a fine 2008 season himself, always speaks highly of the series and its officials. "Mike raves about the series and the way competitors are treated," said Janovic, adding, "That stood out to me and frankly I have talked to several people, Kirk Alexander included, and they all say the same thing. The officials are helpful and do the job." Janovic said the TVMRS was a perfect fit. "Lets face it; we could not afford the other tour." Another reason why he's leaning toward the New England based series.
Janovic is taking the same approach as Jeff Zuidema who recently disclosed his team will run a limited schedule. Janovic plans to run the two Waterford events May 9, and Aug 15, is giving strong consideration to the Seekonk dates, and if his schedule allows, may target the Oxford date in July. The mid week special, July 15, at Seekonk, also has the attention of the VoJan team. Said Janovic, "We'll see how it all falls in place, but we are looking at four to six races and an even bigger assault next year."
Janovic and the VoJan team want to be ready when they take their first TVMRS green flag this spring. "We have to teach ourselves a lot of things, we have a lot to learn. We are going to be out of our comfort zone, our team has been at Waterford a long time." "We'll need the help, that's for sure. We want to be good enough especially at Waterford and to be competitive."
Janovic is anxious to learn.
---
Gada Wins 7th Speedbowl Title
By SHAWN COURCHESNE, Hartford Courant, October 6, 2008 While it wasn't the dominant showing Dennis Gada has had in the past, it felt just as good as all the rest of his championships at the Waterford Speedbowl. It was the one that put him in unprecedented territory.
Gada, from Salem, made it through a crash-filled 100-lap NASCAR Whelen All-American Series SK Modified feature at Sunday's Town Fair Tire Finale to become the first seven-time champion in track history. "This year we kind of struggled, but we made it," said Gada, who finished fourth in the race but looked in danger of losing the title late.
He was running sixth with eight laps left when he spun in turn 2 during a multicar crash. With Rob Janovic Jr. and Keith Rocco running near the front, it looked like the end of the title hopes for Gada if he had to go to the back of the pack. But officials deemed the accident had happened after the caution had flown for another crash in turn 1. It allowed Gada to hold his spot in sixth. He needed to finish seventh or better to guarantee the title.
"It was a gift from God," Gada said. Gada had been tied for the most track titles with Phil Rondeau and Bob Potter.
Rocco held off Janovic for the victory, then couldn't hold his tongue when it came to the officials' decision on Gada. "The track might have gave [Gada] the championship, but we weren't giving them the win," said Rocco, who ended up third in the standings, 12 points behind Gada.
Janovic, the 2007 champion, finished eight points behind Gada. Ron Yuhas Jr. of Groton was third in the race.
---
Waterford Speedbowl: Gada Earns Seventh Course Win
By PETER VANDER VEER
For The Norwich Bulletin
Posted Oct 06, 2008
Keith Rocco might have won his seventh SK Modified season on Sunday in the Waterford Speedbowl's finale, but the number held far more significance for veteran Dennis Gada. Gada's fourth-place finish was good enough to earn him a record seventh track title and put him at the head of the field. He surpassed both Bob Potter (SK Modified) and Phil Rondeau (Late Model). It certainly didn't come easy. Gada had to dodge more bullets than a grizzled gunslinger in a feature where driving finesse was at a minimum. A total of 12 cautions turned the event into a marathon session. Rocco, who had to pit early, finally ran down and passed Rob Janovic with 11 laps left. Rocco made a strong move to the bottom in turn four, then overtook Janovic between turns one and two.
"We had a good car early, but we got messed up," Rocco said. "My crew was able to straighten things out and from then on, I was determined to win this race." Gada received a huge break with 24 laps to go. He tangled and spun after contact with Diego Monahan just outside of turn two. Just seconds before, Frank Ruocco and Mike Sweeney crashed in turn one. Speedbowl officials ruled that the Ruocco-Sweeney incident brought out the caution initially, and Gada got his spot (fifth) back. "Someone was looking out for me on that one," he said.
After being passed, Janovic, the defending champion and, along with Rocco, in contention for this championship, made several bold bids to the outside of Rocco. But he was never able to get a good enough run in order to make the pass. "That kid's good," Janovic said of Rocco. "He's got a long future in racing."
"There was an enormous amount of pressure on me all season long," Gada said. "If I hadn't done it this year, I would've been considered just another driver. "Now, I feel very special." It was the 14th championship won by the Gada family in over 40 years of racing.
---
All eyes are on Gada, Janovic Jr.
Drivers separated by 12 points for SK title at Speedbowl
By Owen Poole Published on 10/3/2008 of The Day Newspaper
Last year at this time, the two drivers were each chasing down their own form of history, one looking for track immortality, the other for that elusive first championship. Flash forward a year and Dennis Gada and Rob Janovic Jr. are doing the exact same thing, although their roles are reversed. Gada is in the front-row seat for an unprecedented seventh track championship at Waterford Speedbowl, while Janovic is just 12 points behind him looking for his second consecutive SK-Modified title. The showcase of this weekend's season-ending Town Fair Tire Finale will be the last race on the card – the 100-lap SK-Modified feature – and all eyes will be on Gada and Janovic, who held a 16-point lead heading into last season's finale.
"We're in a better situation than we were last year, that's for sure," Gada said. "I'd have given anything to be in this position last year. It takes some pressure off of me. I don't have to finish ahead of anybody, I just have to stay close." Gada leads Janovic by 12 points this year, while Keith Rocco still lurks 18 points behind.
"I certainly don't wish bad luck on either (Gada) or Keith, but at the same time, I'm ready to capitalize," Janovic said. Janovic had a slow start to the season, but closed the gap on Gada to six points just three weeks ago. Last week's rainout didn't help his pursuit. "You never know what could have happened," Janovic said. "It could have swung either way. I certainly would have liked another opportunity. At the same time, I could have had a larger deficit. For me chasing, the more opportunities the better."
Gada, with six championships already under his belt, knows his way around the track better than anyone, and knows how to keep a lead. "I'm hoping to get that pressure to win off my shoulders," Gada said. "It's more than a championship, it's another rung on the ladder to me. If we get this one done, we'll have our own record." And records are something Gada knows all about, recalling personal anecdotes from each of his six SK titles, including his second in 2000, the first year NASCAR sanctioned races at the Speedbowl.
"When doesn't (Gada) have a bad race, when is he not in the top five?" Janovic said. "A championship is based on consistency and Dennis is Mr. Constistent. … If he's to have bad luck and for me to win it, it would almost be a crime to steal it from him. There's a part of me that would feel guilty. That being said, I'd be the happiest guy in the world." Whatever happens this weekend, Janovic is just happy to be in the hunt entering the season's final weekend.
"Just to have a legitimate shot going into the last race is fun," he said. "I'm not ready for it to end. I'm on a roll."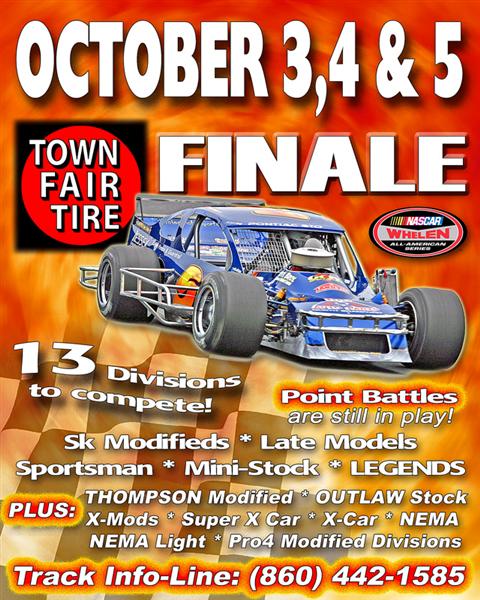 ---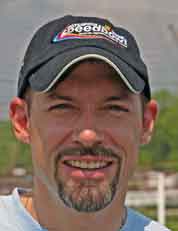 Three-Way SK Point Battle Rages
Sept. 15, 2008 Speedbowl Press Release
Rob Janovic Jr., a guy who enjoys staying under the radar, all of a sudden is a contender to make it two straight Waterford Speedbowl SK-Modified championships. Points will be a concern as action continues this week. Coming off two top-fives (and the overall win) in last week's Double Down Shootout, Janovic has moved into second in the standings and heads into Saturday night's 35-lap SK feature a scant six points behind leader Dennis Gada. Keith Rocco now sits third, 22 back. The point wars go on in the midst of one of the most competitive campaigns in the Speedbowl's 57-year history. Glenn Colvin (Mini Stock) and young Matt Gallo (SK-Modifieds) became the 41st and 42nd Speedbowl regular division winners this year. Gallo's daring move on a late restart to grab the lead was a thing to behold. It was the first-ever win for the Berlin High senior. Jeffrey Paul, Tyler Chadwick, Ron Yuhas Jr. and Jeff Pearl all remain in contention for a top five finish in the final SK rankings. Gallo's victory made it an dozen winners in the division thus far.
Only three point-paying events including the Oct. 4-5 "Finale" remain on the Speedbowl '08 schedule
---
Waterford Speedbowl: Janovic's Smarts Guide Him Around the Track
By Peter Vander Veer, For the Norwich Bulletin, July 03, 2008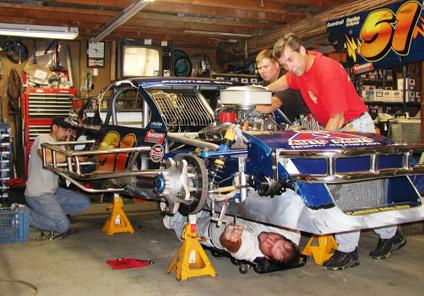 Rob Janovic can truthfully say he's gotten an education in auto racing. In the next breath, he will quickly admit that getting away from racing, albeit temporarily, allowed him to finish his education. Janovic will be one of the prime contenders Saturday night as Pepsi 300 night unfolds at the Waterford Speedbowl. He'll be in the SK Modified portion, a 100-lap event where strategy plays the biggest role in how you'll finish. He first came to the Speedbowl to compete as a 23-year-old in 1987 and went head-on into some of the best competition that has ever been produced in the track's Late-Model Stock Car Division.
"Back then, you didn't have a Mini-Stock or Sportsman class," Janovic said. "You had basically two choices — race a modified or try it in the late models." So Janovic showed up in a car that wasn't very good and tried to beat the best in Phil Rondeau, C.J. Frye, Paul Heard, Jimmy Lloyd, Conrad and Larry Cote, Brian McCarthy and quite a few others. "They had the knowledge and the skill," Janovic said. "I showed up with my car and a bunch of tools in a cardboard box." But, through sheer determination and enough perseverance to last, Janovic battled on.
"I wasn't going to give in," he said. "I had something to prove." He became virtually a six-day-a-week racer, working on the car for five nights, racing on Saturdays and sleeping almost all day on Sunday. At the same time, he was trying to get an education. "It wasn't working," he said. "I took fewer courses in the spring in order to build and get my cars ready, then I took fewer classes in the fall because I was still racing." He made a quick decision and left racing. What followed was an Associate's Degree from Mitchell Junior College in New London and a Bachelors Degree from the University of New Haven. Along the way, he also got a broadcaster's certificate from the Connecticut School of Broadcasting.
The lure of racing, however, was just too strong. He returned in Waterford's Late-Model Division in 1996 and went SK Modified racing in 2002. He hit the pinnacle in his career last year, taking home the track championship. "I never really knew what that meant until this year," said the Waterford resident. "Now, no matter what knocks me down during the night, I can still smile because of that championship. Those vivid memories are still there. They are a true pick-me-upper."
An early win (on April 19) and a handful of good finishes have been the high points of 2008 so far. Throw in a few bad finishes and it leaves Janovic sixth in points (354), only two points out of fifth, but a bunch from the top where Dennis Gada sits, with 428. "I haven't taken a look at them in some time," Janovic said of the standings. His focus is set squarely on Saturday night. "A good finish by our team and perhaps a few bad ones by some other guys would allow us to gain some," he said. Having run enough 100 lappers over the years, Janovic knows what he needs to do. "Obviously, qualifying near or at the front is important," he said. "Then it comes down to tire management and strategy.
"The number of cautions will dictate how you race. If it becomes a 100-lap sprint, you have to stay on it most of the way. If the race gets dragged out, you have to drive defensively, keep the wheels on the car and be ready to race all-out in the final 25 laps. "However, things can change quickly. You've pretty much have to be ready for any and all situations."
His most recent success is a credit to his team, Janovic says. That includes crew chief Greg Hanner and car co-owner John Volpe. "You're never out there racing for yourself," said Janovic, who has 23 career wins at Waterford (17 in an SK Modified and six in a Late Model). "You're only as good as the guys behind you. I have a terrific team." He hasn't forgotten either the good or bad times in racing. "It's a huge commitment and you always got out of it what you put in," he said. "Winning that championship was more than just a season of accomplishment. For me, it was vindication for all that I'd done."
---
"Rob Janovic Jr., Now & Then" by Bob Freeman
Centerfold article in the Speedbowl program from June 28, 2008 (.PDF File Download 1.6 MB file size)


Janovic Centerfold – Speedbowl Program June 28, 2008 (In PDF format)
---
2008 Bud Nat'l Preview
Speedbowl Press Release March 2008
Reigning Waterford Speedbowl SK-Modified champion Rob Janovic Jr. admits to having "a little extra "spring in his step" these days. The realization of his name being among decades of Speedbowl modified champions has finally sunk-in. "When you're in the middle of the battle, you really don't think about what the outcome is going to feel like. You're too busy just trying to win the war," says Janovic.
Janovic will be begin defense of his title April 12-13 in the SK-150, the headliner of the season-opening 12th annual Budweiser Modified Nationals. The weekend also includes the NASCAR Whelen All American Series Late Models, Sportsman, and Mini Stocks. The NEMA Midgets, NEMA Lites, Legends, AllStar Race Trucks, Pro4 Modifieds and Allison Legacy Cars are on the agenda.
The team plans a dedicated defense of the title beginning with the SK-150. A win in one of the biggest SK races would fit nicely on a resume that includes 23 total wins, 17 including the 2006 Fall Finale 100, in the SKs. "No matter how things go," he says, "I've got the whole year to savor being the defending champion and that's a great feeling to have going into a new season." Janovic edged six-time SK champion Dennis Gada by a scant ten-points in one of the closest battles in recent memory.
"Honestly, I never placed all my emphasis on becoming a champion," he continues. "It's not like my racing career wouldn't be complete without it. We always tried to be competitive on a week-to-week basis and let the chips fall where they may at the end of the season." The title has changed things. "I think about it now, and it's like wow," he says. "I'm there with all the drivers I watched growing-up. Being in the same category with racers like Bob Potter, Jerry Pearl, Mark LaJeunesse, and of course, Dennis Gada, it's really an honor."
A Waterford native, he started racing back in the 1980s in the Late Model division. He took a few years off to attend college and returned to a division that has progressed immensely from a technical standpoint." "I can remember just driving around looking in people's yards to see if there were any 69' Chevy's sitting around that I could buy to part-out for my race car," he recalls. The advancement of the class, however, made the jump to the SK's easier. The divisions share a lot more in common now, notably set-up and chassis geometry."
---


"What Goes Around…Comes Around" by Pete Zanardi
January's Issue Features Some Positive Press For Speedbowl SK Points Battle & Rob's Championship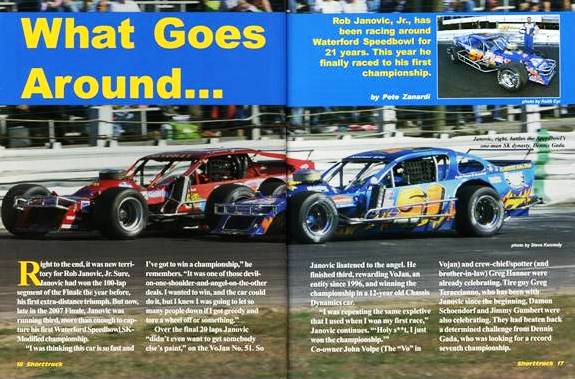 Shortrack Magazine – Jan 2008 (In PDF format) (Adobe Acrobat Reader 5.0 or Higher Required)
---
Follow-up Article to "Expect Professionalism: Rob Janovic Gets Sponsors With A Sharp Car and a Professional Look"
See Below – By Dick Berggren December 2007, original article published in the April 2006 Edition of Speedway Illustrated


Speedway Illustrated – Dec 2007 (In PDF format) (Adobe Acrobat Reader 5.0 or Higher Required)
---
Janovic Celebrates First Title – Waterford driver holds off Gada for Speedbowl Crown in SK-Modifieds
By Owen Poole , Day Sports Writer Published on 9/24/2007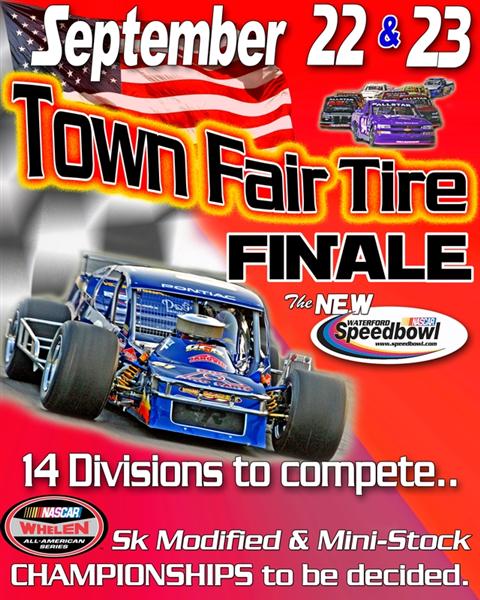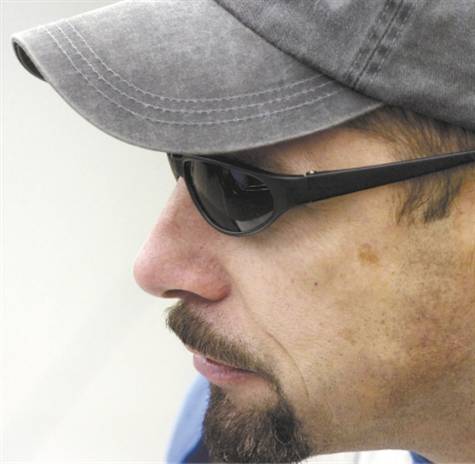 Promo by Keith Cyr                           Photo By Tim Cook – Rob @ 1st Practice of 2006 Season – 1 Goal – To Win
They have known each other for years, boasting two of the most storied surnames in the history of Waterford Speedbowl. Entering Sunday's season finale, they were at different ends of the spectrum, one chasing down the other for track history, the other trying to fend off a legend for his first championship. So after a tactical argument between the pair of veteran drivers last weekend, Dennis Gada sidled up to the man he was chasing, Rob Janovic Jr., at the drivers' meeting Sunday morn-ing to bury the hatchet. The conversation touched on a variety of topics, none of which was racing. "He walked right over to me, we shook hands, he sat on the wall beside me, we kind of looked at each other, and I said. 'Wow, your kids are getting big,'" Janovic said. That's how arguments should be settled at the Waterford Speedbowl. "We talked about (Gada's son) Joey's shoe size. He's got 13s. … That was it. We shook hands, he said good luck to me. I said, 'Have a safe race.' Because, honestly, I'm not offering Dennis Gada good luck." Janovic didn't need any luck, either.
The Waterford resident finished third in the 100-lap SK-Modified feature, clinching the SK-Modified championship for his first title in 22 years of racing. Gada, who came back for another year of racing with a singular goal of winning an unprecedented seventh title, won his third straight feature and did everything he possibly could, but Janovic was able to escape with the trophy. Donnie Fowler finished second, followed by Janovic, Diego Monahan and Jeff Pearl.
Gada took the lead with five laps remaining with Janovic sitting solidly third place. "I changed my driving style," Janovic said. "I was convinced I had to race up in the top five to win a championship. I knew Dennis would win, but my car got better and better and better. … I wanted to at least finish second, tapping his bumper across the finish line."
After the win, Janovic, who's at his best in front of an audience, got just that, with his family and friends gathering around the finish line to cheer him on. "I got so much support from so many people that I never knew, it was unbelievable," Janovic said. "People you pass all the time, people you kind of recognize and they stop and tell you, 'We really want you to win. We're pulling for you.' That feels better than a trophy, it feels better than a check. I've been driving here for a long time and to find out that that many people wanted me to win the championship, it's awesome."
For Gada, the finale means another decision is on his hands whether or not to come back and race another year for a seventh title. He is currently tied with Bob Potter and Phil Rondeau with six apiece. "I can leave this career and be happy with what I've accomplished," the Salem driver said. "It's tough. Racing is still fun. It's the big 'if'. … I'm going to run the (season-opening) Nationals race because I've run all the other ones. I'm going to at least run that race and then take it from there." And then he let this little nugget slip with a laugh: "Which probably means I'll be running all year."
---
Rob Janovic – 2007 SK Modified Champion
Speedbowl Press Release Sept. 2007
Rob Janovic Jr. is always mentioned in the same company with Dennis Gada, Jeff Pearl, Tom Fox and Ed Reed Jr. – all home-grown Waterford Speedbowl products. Now, Janovic has what they all have – a Speedbowl championship. Beating back a challenge from Gada, Janovic put the 2007 SK-Modified crown safely away with a third in the 100-lap SK segment of the Finale. Gada won the race, the points battle going down to the checkered. Getting off to a quick start – five straight top fives including a pair of wins – Vojan Racing (Janovic and co-owner John Volpe) settled into a pattern of consistency. Janovic was third or better in the final four races. VoJan, which also includes crew chief/spotter Greg Hanner and Greg Teraccianno (who has been with Janovic from the beginning) does battle in a 12-year old Chassis Dynamics car. It is actually the first-ever chassis built after Mike Paquette assumed control of CD in 1995. Damon Schoendorf (AKA "Gotta Go") and Jimmy Gumbert are also part of VoJan.
The championship caps a 20-year run that began in 1987 when Janovic, his brother Gary and Teraccianno came with a one-time C.J. Frye Late Model purchased from Artie Moran. The Speedbowl had only two divisions (Modified and Late Model) at the time. The operation lasted three seasons, Janovic becoming a college student and a "now and then" racer until the formation of VoJan as a Late Model entry in 1995. The team's first win came on opening day of 1996. An established force in the Late Models, convincing Volpe to "Go Modified" was no easy chore Janovic recalls. Still, at that point in his career, Janovic didn't want to leave racing without an SK win. He believed a CD chassis was needed to put the team on an even keel with everybody else.
A brief try at driving in both divisions was abandoned (the last Late Model win came in 2001) and VoJan settled into the SK scene. It has scored at least one win every year since '02 and over than span finished no worst than fifth in points, reaching third twice. Janovic is tied for eight on the Speedbowl SK career win list with 16. He insists winning or "running competitively at the very least" remains VoJan's first priority. "I've always put the most emphasis on winning," he says pointing out the thrill of winning his first LM and SK races remains a vivid memory. "The championship ranks with them but for a different reason," he says. "This is sort of cumulative thing."
This was his first venture in a points battle. He was almost reluctant to get into it then found it the "most fun challenge" he's ever had. VoJan will be back in the same chassis, a year older but ready to.
---
Gada Comes Up Just Short In Hunt For Seventh Title as Janovic Claims His First
By Peter Vander Veer Sep 23, 2007
The lovable, old Brooklyn Dodgers, forerunners to the team that moved to Los Angeles after the 1957 Major League Baseball season, had a favorite saying of "Wait until next year." Now, after Sunday's running of the Town Fair Tire-sponsored Finale at the Waterford Speedbowl, Dennis Gada must decide if there will be a next year in his bid to capture a record seventh track title. Even though Gada won Sunday's 100-lap SK Modified race by finally getting by the determined veteran, Clinton's Don Fowler, with four laps left to earn an ironic seventh victory of the season, he came up short in his title quest.
A third-place showing by Waterford's Rob Janovic earned the always talkative driver a first-ever championship after more than 20 years of racing at the Speedbowl. Three re-starts in the final 12 laps of competition set up the dramatic finish as Fowler, nursing a car with a broken sway bar, battled Gada almost to the conclusion. "When you're trying to win a feature, especially one over 100 laps, you're not going to give in easily," said Fowler, who returned to racing after suffering a stroke midway through the 2006 season. "It got pretty ugly out there. The car wasn't good. I've got to thank those guys for not pushing me out of the way."
Only 14 points, or seven positions, separated Gada and Janovic coming into the race. Gada's plan was to get to the front from his 10th starting positon as quickly as possible. Unfortunately, because of numerous cautions (10 in all), he wasn't able to do that. Meanwhile, Janovic, who said his car wasn't good early, drove a conservative race until around the 75-lap mark. "The car started to get very racy," he said. "Several times I thought maybe I could get the win. Late in the race, after Dennis took over the lead, I really wanted to get into second and finish on his bumper." That opportunity never arose.
Instead, Gada used a patented outside move, again off of turn two, to get a run and the lead. "My car was good the entire race," Gada said. "Especially up high. I knew that Donnie was in trouble. I also knew that he would race me and race me clean." Fowler had taken over the race lead from Frank Mucciacciaro Jr. of Milford on a lap 61 restart. Both Gada and Janovic didn't mix their words the past week about each other's activities on the track. "Give Dennis credit," Janovic said. "He broke the ice this morning right before the driver's meeting. We had a nice, social visit for about five minutes."
Even 30 minutes after his victory, Janovic still seemed in awe about taking a championship. "When I first started racing in the late model division, I never dreamed I would ever end up in a modified," he said. "I knew thought that I had either the mechnical ability or the skill to drive one of these cars. "What makes this all worthwhile is all the people that have already come by to congratulate me. They're the people who you see here every Saturday night."
Gada feels that he'll take some time before deciding if he'll come back for another full season. "I want to spend more time with my family, but I also love racing," he said. "It's not going to be an easy decision. That's why I'm not going to decide either way for awhile." A season to remember
---
Two men, 100 laps – Rivals Janovic, Gada to duel for SK modified title
By Peter Vander Veer, For the Norwich Bulletin Sep 20, 2007
Sometimes friends grow distant. You can have a buddy one day and lose him the next. Obviously, the warm feelings once generated between Waterford Speedbowl SK Modified rivals Rob Janovic Jr. of Waterford and Dennis Gada of Salem have been fractured. Gada claims it happened last fall when Janovic "drove over my left front to win a 100 lapper (the Town Fair Tire Finale)." Ironically, it will be that same event where the two will battle it out for divisional supremacy in 2007. Gada is after a record seventh title. If he gets it, he will retire. If not, he says. "I might be back." It will be decided this Sunday, probably under ideal, autumn conditions.
Janovic comes into the track's Town Fair Town Finale with a 14-point cushion. He has 942 points to Gada's 928. The two have produced high drama for the second half of this racing season, pulling away from the field after early-season points contender Shawn Monahan stopped racing at the track after an indifference with race officials. Janovic has labored at the sport he calls his "Saturday-night enjoyment" for more than 20 years. He's won races as a late-model competitor and has taken features in the SK division. What he doesn't have and most assuredly wants is a track championship. "I'm definitely happy to be coming in with that 14-point lead and not a 14-point deficit," Janovic said while unwinding in his trailer last Saturday night. "Would I rather see it end with a 35-lap feature? Of course I would. But it's going to be 100 laps. I'll drive every lap as fast and as hard as I can. My fate is basically up to me."
Gada will somehow need to find a way to make up seven spots. If he can do it and the two drivers end up tied, the championship goes to him. The first tiebreaker is determined by which driver has the most wins this year. Gada currently leads that category, 6-3.
The relationship between the two got a little wider during last week's feature. Janovic drove to the front first. Gada reached second in almost as rapid a fashion. That's when the action got tense. That's when the nerf-bar game began. All season long, Gada has found ways to pass drivers on the outside. He gains momentum lap after lap, setting the nose of his racecar right where he wants it. Nobody has or probably ever has developed a better skill for doing it at the Speedbowl. Janovic, however, used the right side of his car to move Gada up, circuit after circuit. There were times when it got everybody's heart beating a little faster. It produced a good share of exciting, on-the-edge-of-your-seat moments for those watching. Finally, with four laps left, Gada found his favorite spot, off of turn two. With one push back that had two competitors partly sideways, he wrenched the lead away from Janovic. They ran the final four laps apart, with Gada winning and Janovic finishing second.
Afterward, the normally courteous and non-offending Gada had a few words for Janovic. "I'm not surprised that he drove like that," Gada said. "But I'm disappointed. He's become desperate to win. All I wanted him to do was race his race. Don't push me all over the track. I'd get a little run going into a corner and he'd knock me right up the track. That's ridiculous. "I have nothing good to say about him right now. Nothing at all. We used to be pretty tight. Now, he starts racing me like this. We've competed against each other for 20 years. We raced each other hard in the past and usually laughed about it. Not now."
Janovic wasn't about to back down, either. "I decided to run the three car (Gada's) tonight the way he ran me when I was on the outside of him several races back," Janovic said. "And that's straight in the turns. "There's absolutely no doubt. No one can say Dennis Gada isn't a great driver. I knew he could handle it (the contact). And, you noticed, he got the lead when we were both sideways. He got us that way. He knew he could get the lead by doing that."
It did seem strange that Janovic, having a lot to lose, would drive as hard as he did. He could've easily settled for a second or third, dropped the risk factors, and headed for this weekend. "I wasn't going to pull over and let him go by without a fight," Janovic explained. "Why should I? I show up every Saturday night looking to win. You come here with winning in mind. The points come second."
It's a theory Gada doesn't buy. "Anybody within a shot of winning the championship at this point in the season is racing for the points," Gada said. "I don't care what he said. Rob is racing for the points. That's why he tried to push me off the track. He's been around since 1985 and hasn't won a championship. Of course he wants one."
So, it comes down to Sunday. Two drivers. One championship. One who would like to step aside, continue to help his son, Joey, develop as a racer. To put that long career, one with unbridled success, in the rear-view mirror. But his celebratory cake is still missing just a little bit of frosting. A track-record seventh crown would make it complete.
The other wants that much-coveted first title. Years of mid-week nights spent in the garage would be rewarded. The sweet taste of a championship would diminish the bitter taste of past defeats and failures.
One hundred laps separate them in their bid to make more Waterford Speedbowl history. You couldn't script a better ending.
---
Janovic Inching Toward Points Title
By Peter Vander Veer, For the Norwich Bulletin Sep 08, 2007
Rob Janovic Jr., moved one race closer to wrapping up the 2007 SK Modified Division points championship at the Waterford Speedbowl Saturday night with a third-place finish in the 35-lap feature. His nearest competitor, Dennis Gada of Salem, ran to the victory, his fifth of the year. Gada drove past race leader Keith Rocco of Wallingford one lap after the halfway point and proceeded to increase his margin over the field throughout the remainder of the event. Meanwhile, Janovic, who started 13th (Gada went to the post in the seventh starting spot) drove a sound race, picking off other cars in a methodic style. "It's been tough on this team for the last month," said Janovic, who'll take a 16-point lead over Gada (894-878) into the final night race of the season on Saturday. "We messed up a little tonight with the chassis. But apparently it didn't hurt us that much."
"I had a good car tonight," Gada said. "It was much better on the bottom than on the top. It was just too tight on the outside." Gada pulled to Rocco's bumper on lap 14, then made his decision to look for the pass on the inside. It came four laps later as the two drivers came off of turn two. "After that I was hoping we wouldn't have another caution," Gada said.
The six-time SK Modified track champ at Waterford knows that overtaking Janovic won't be easy. "I'm certainly not wishing him any bad luck," he said. "It's only 16 points. If I can get a win or a second (place) next week and he finishes at least four spots behind me, that would make it interesting going into the final race." Rocco was second with Janovic third. Tyler Chadwick and Jeffrey Paul closed out the top five.
---
Luck, Speed Converge for Janovic
By: Matt Buckler , Journal Inquirer 5/14/2007 The first part of the season has traditionally been a disaster area for SK Modified driver Rob Janovic Jr. of Waterford. The repair bills have far outnumbered the trophies. In 2007, however, the gloom and doom that usually follows Janovic in April and May has been replaced by positive results.
Janovic buzzed to his second consecutive win, steaming past Doug Coby with eight laps remaining in Saturday's 35-lap SK Modified feature at Waterford Speedbowl. The win pulled Janovic to within 18 points of point leader Shawn Monahan, who finished second. Usually at this stage of the season, however, Janovic is usually so far back in the standings that he needs the Hubble telescope to see the leaders. "This is a new thing for me, winning races this early," said Janovic, who started his Speedbowl career in the early '90s. "It seems we always lacked momentum in the early part of the season. But this is the kind of start we should have had last year, or two years ago, or three years ago. We've always been capable. The only thing that's been missing is luck."
He had luck and speed going for him Saturday as he made a power move on the bottom groove of the track that Coby couldn't stop. "Rob was so fast, there was no way I was going to catch him," said Monahan, who nudged past Coby late in the race to grab second.
---
Rob Janovic Makes It Two Wins In A Row at Speedbowl in Whelen All-American Series in the SK Modifieds Division
By Dave Meredith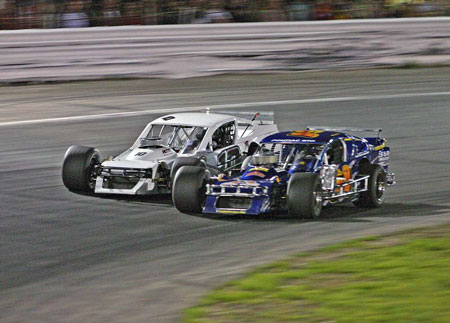 Photo by Keith Cyr
According to Janovic it is the first time he has won back-to-back features in his career. The Waterford , CT , driver has been racing for 20 years. For the last ten, he has been a regular competitor at the Speedbowl. "If I keep this up, I might actually think I'm for real. We've got a great team and a very good crew chief (Greg Hanner)," Janovic said in Victory Lane. "What hasn't always been there is luck. Maybe that's about to change." Janovic, in the #51 primarily sponsored by Essex Limo, Eagle Fence & Guardrail, Vasel Bro. Construction and Big A Auto Parts of North Branford, showed patience as he worked his way through the field. With 8 laps to go he passed the #10 of Milford, CT, driver, Doug Coby, on the inside of turn four as they came down the front stretch. Janovic had to survive one last restart on lap 28 with Coby and the #31 of Shawn Monahan. Monahan, also of Waterford, made it past Coby to take second.
With the win Janovic is now 18 points behind Shawn Monahan in the season long battle for the track champion title.
Janovic said in a post interview: "I told my co-car owner that I honestly think I'm getting better with age. On the second to last restart we had a clutch problem this week, so I had to pump to the clutch on the restart to keep the clutch pedal up. Frank Mucciacarro never went as fast as he did with me pushing him up the front shoot! "The key to winning tonight was when Frank Mucciacarro stayed low and gave me the whole outside lane to go by him, Frank and I are good friends, and he was very gentlemanly to me".
"I used get very upset when I was leading with two or three laps to go and a caution would come out. I'd be screaming obscenities, banging my fist on the steering wheel. I've got the confidence now with GCR engine and my crew chief's help when the caution comes out I can pretty much handle them on a restart," he concluded.
During a victory interview on the front stretch Janovic was asked about his car and that his engine builder found more power today when he checked the carburetor gasket and found the wrong one was on the car. Janovic said he "took a gasket of the shelf in the shop and never even checked it." With the gasket change they found more power for the modified. The car ran inside our outside whatever Rob Janovic needed tonight.
---
Rob Janovic Thinking He Might Be For Real At Waterford
The Backstretch | Courant.Com, Shawn Courchesne | Auto Racing Blog
May 12, 2007
Rob Janovic Jr of Waterford passed Doug Coby of Milford late and then held off Shawn Monahan of Waterford on the final lap to win the 35-lap NASCAR Whelen All-American Series SK Modified feature. It was the second consecutive victory for Janovic and the first time in his career he was won two straight. "If I keep this up I might actually start thinking that I'm for real," Janovic said. Monahan was able to get by Coby for second on a late restart and was able to pull up on Janovic's bumper on the final lap, but that was as close as he would get. Monahan held on for second and Coby was third.
---
Janovic Wins Mods
By PETER VANDER VEER, For the Norwich Bulletin May 13, 2007 Rob Janovic Jr. seems to have found the missing link in his racing career. Usually a slow starter, Janovic of Waterford, captured a career-first, winning his second consecutive feature event win Saturday night by taking the 35-lap SK Modified event at the Waterford Speedbowl. Janovic used a turn-four move to the bottom of the racetrack to pass Doug Coby with eight laps left, then he needed a good re-start to secure the win with two laps remaining.
"We've got a great team, a very good crew chief (Greg Hanner)," Janovic said in Victory Lane. "What hasn't always been there is luck. Maybe that's about to change." Janovic currently trails points leader Shawn Monahan by 18. Monahan used a late-race pass of Coby to take down second. "I'll take a second tonight," Monahan said. "Rob was just too fast. I didn't have enough time to catch him, so I concentrated on getting by Coby."
Coby battled with initial leader Frank Muccicciaro Jr. of Milford throughout the early stages of the race. Mucciacciaro caught a big break on lap 12. On the restart, he spun after making contact with Coby in turn two. But the caution wasn't thrown until Ledyard's Wendell Dailey looped his car midway down the backstretch. Mucciacciaro got his lead back, but he lost it a lap later as Coby found an opening on the outside exiting turn two. Janovic went into second on lap 20, giving himself an opportunity for the win with 15 circuits left. Following Janovic, Shawn Monahan and Coby was James (Diego) Monahan and Dennis Gada. "He (Shawn Monahan) did what he had to do," Coby said. "He used his right front tire to get second place."
---
Janovic Comes From Behind
By PETER VANDER VEER , For the Norwich Bulletin 5-6-2007
They may have run their normal 35 laps in Saturday night's SK Modified feature at the Waterford Speedbowl. But to winner Rob Janovic's way of thinking, the race was clearly decided with 34 circuits completed when he outraced Dennis Charette to the line, picking up the lead just seconds before a yellow flew for a spinning Bert Marvin on the track's backstretch. "I'd never have won tonight if Dennis had started inside of me on that restart," Janovic said. "At best, I had a seventh-place car when the feature started. The handling was that bad. We (himself and his crew) made some changes on the car before the feature. It was my decision and a poor one at that."
With four laps remaining, the look at the front end of the field changed drastically when Don Fowler, running second, went up high in turn two while trying to overtake Charette. Fowler got crossed up, then got tagged by Jeffrey Paul and cars went in every direction. Also involved in the crash were Doug Coby and Kenny Horton. Somehow, Janovic got through.
"I could see Fowler's nose, then his numbers as we came through three and four," Janovic said. "My spotter told me to go low. I'm glad I did." Janovic made what he called, "several serpentine moves" to get through, moving from sixth to second. While he battled Charette on the outside, Janovic said he had to stay on the gas because he was afraid that he would wreck the field behind him. "It gave me the incentive to run as hard as I could," Janovic said. Charette wound up second while points leader Shawn Monahan and his brother, Diego, were third and fourth, respectively. Tyler Chadwick had a career-best, fifth-place finish.
---
Janovic Races To First Victory Of The Season
By Pete Zanardi , Published in The Day on 5/6/2007
It was a 35-lap feature, but lap 34 was the difference in Rob Janovic Jr.'s SK-Modified victory Saturday night at Waterford Speedbowl.
It was the first win of season for the veteran racer.
Janovic lined up outside of Dennis Charette, the only other leader, on a restart with three laps remaining. After two laps of side-by-side action, Janovic had a tiny edge going under the white when yellow immediately flew. Now on the inside, Janovic got the jump on the final green and went on to beat Charette by a car length in the green-white-checkered finish.
Janovic said had he not led the 34th lap he would not have won. Don Fowler seemed to be Charette's only concern until four laps remained. Fowler, in the outside lane, and Jeffrey Paul, running second and fourth, tangled. Kenny Horton and Doug Coby were also involved. Janovic moved from sixth to second on the resulting restart. "When I lined up outside Dennis, my concern was not to go back with an ill-handling car," Janovic said. "My motivation was to stay out there because if I fell back I think I would have got eaten up. … I was surprised the car responded so well."
---
Winning Agrees With Janovic Jr.
SK Modifed driver in a much better mood than last week
By JASON CHRISTLEY Day Sports Writer Published on 5/7/2006
A week ago, the normally verbose Rob Janovic Jr. was so incensed after the race he stormed away from his trailer, finding solitude in an abandoned lawn chair he dragged out of the woods by the gas truck — away from all inquiring minds. The source of his frustration was the broken right tie-rod on his SK Modified, damaged in a freak accident under caution that knocked the third-place Janovic out of the race with five laps left. The days that followed weren't much better.
"All week long, it ate at me," said Janovic, who was accidentally hit by Jeff Pearl under the yellow when the latter was trying to pass on the way to the pits. "It bothered me because, for a guy like me, as far as I'm concerned, the wins are too few and far between. "I honestly think we had the fastest car last week. I honestly think we had given away an opportunity."
Saturday, Janovic was back in a talkative mood. Winning helps.
Janovic started second, took the lead seven laps into the 35-lap feature and cruised to his first win of the season at the Waterford Speedbowl. He pulled away from runner-up Tom Fox on three successive cautions over the last 17 laps to get it. "I felt extremely comfortable. Until all the cautions came out," Janovic said. "Then I started down through the list of absolutely everything that could go wrong. "As we went, my spotter/crew chief/brother-in-law kept telling me they had nothing for me." Fox agreed. "Rob was a tick better," Fox said. "All in all, it wasn't a bad night."
---
Expect Professionalism: Rob Janovic Gets Sponsors With A Sharp Car and a Professional Look
By Dick Berggren
Published in the April 2006 Edition of Speedway Illustrated


Speedway Illustrated – Dec 2007 (Adobe Acrobat Reader 5.0 or Higher Required)
"NASCAR SK Modified driver Rob Janovic has the best-looking car in the pits…."
---
A Racer Of Many Years: Janovic Jr. Is A Part of the Speedbowl Family
By Shannon Sousa
Published on 11/18/2005 In the Waterford Times Rob Janovic Jr. is a man who puts his heart and soul into racing, and he considers his second home to be the Waterford Speedbowl. Most consider him one of the most historically significant racers there, competing with the best of the best, and he sometimes is referred to as part of "the royal family". The Waterford resident, who currently works as a service manager at Import Auto in Stonington, is deeply rooted in the history of the Speedbowl after racing for about 19 years. He said the aspect he enjoys most about the track is the friendships he's forged with many staff and competing racers. "We've all been racing against each other for years, and on any given night one of us is the faster car," he said. "We race each other fiercely, but we have respect for one another."
Pete Zanardi, public relations director at the Speedbowl, said he describes Janovic as cooperative and always positive. "Rob has a long association with the Speedbowl, joining Dennis Gada, Tommy Fox, Jeff Pearl and Ron Yuhas Jr.," Zanardi said. "They are all talented, intelligent guys who have generational ties to the place."
Although Janovic was never born into a racing family, he's always loved the sport, but had to work his way in. He admitted it's very hard to race without three important ingredients: a crew, finances and family support. Luckily, he managed to find all three, which has led him to a successful career.
Janovic finished eighth in the Waterford Speedbowl's twice postponed 50-lap SK-Modified Town Fair Tire Finale Nov. 4-6. He faced problems with his power steering late the race, giving up a fourth-place position to pit for repairs and start from the rear of the field with 35 laps to go. Janovic and his crew got back just in time for the running of the Speedbowl's finale, after finishing ninth out of 41 other cars in the SK-Mod feature at the North-South Shootout at Concord Motorsports Park in Concord, N.C., the night before. "Fact is, it is almost a duty to finish the season at the Speedbowl," he said. "I owe that to my fans and definitely to my sponsor. I would hate to leave any unfinished business, to not take the opportunity to win one more race."
Janovic finished as a two-time SK-Modified winner and had 10 top-five races this season. He finished No. 5 in the point standings with 750 points.
"Every race week we've been one of the fastest cars," Janovic said. He credits his six-person crew for getting that done as well as support from family members, including wife Annette, his brother, sisters, nieces and nephews. Crew chief and spotter Greg Hanner of Waterford, Janovic's brother-in-law, has been his go-to guy for sometime, helping to make the No. 51 race car look its best and run successfully. "The thing I do to gain results is help tell him where to turn in the event of a wreck, and when to slow down," Hanner said. "It can be a brutal job. I'm talking milliseconds can make a difference. You have to have good communication with your driver." The crew spends hours at a local garage and at the Speedbowl's pit, checking every aspect of the car, from the suspension geometry to the tire pressure. Everybody has a job and takes it very seriously. "I don't think there's a team that is more prepared than us on a weekly basis," Hanner said. "If we're going to show up, we're not showing up at 80 percent. There's always someone else available on our team to pick up the loose ends and do the job."
How He Started Racing – Janovic's experience racing at the Waterford track can be traced back to the late 1980s, when he went to Mitchell College for an associate's degree and later to the University of New Haven, where he graduated with a bachelor's degree in business administration in the early '90s. He has driven in the Late Model division every season since 1986. He switched to the SK-Mod division in 2002 and has raced for three straight seasons with car owner John Volpe of Killingworth.
"We've been best friends since our early 20s," Janovic said about Volpe. "I introduced him to the sport, and he loved it. We thought it would be a great opportunity to put our resources together. I would be limited without this partnership." As for the types of racing he does, Janovic said there are distinct differences in the two divisions. "The Late Models require more finesse than the other divisions," he said. "But I've had more success in Mods, more wins, more consistent finishes. Competition is higher, but I've finished better in point standings."
How does it feel to race in a Modified? "You wear the car," he said. "Instead of strapping yourself into the car, you are strapping the car onto you. The left rear tire is behind your shoulder, the engine is almost higher than your head. You feel the track through the seat of your car. When someone hits your bumper it goes right through your body."
In the last three seasons, Janovic has kept to the same goal. "I always want to win as many races as I can," he said. "The bottom line is to have fun. All drivers say that, but with me and my crew, we are all best friends, this is what we do." When asked if he will continue racing in future years, Janovic said in a content voice, "Every year I get asked, 'Are you going to race next year.' At this junction, I foresee us going at least another couple of years."
---
These Three Auto Racers Have A Long Road to Hoe
By PETER VANDER VEER
For the Norwich Bulletin
It's much, much more than your average Saturday afternoon drive. For Tom Fox, Rob Janovic and Ron Silk and their respective crews, it's a trip that will start around 7 p.m. in Concord, N.C., and, if everything goes well, should end between 7-8 a.m. on Sunday morning. By then, three very weary race teams will arrive at the Waterford Speedbowl pit gate and get ready for the day's SK Modified feature, which is part of the Town Fair Tire Finale.
Fox, Janovic and Silk, whose car owner is Bruce Fontaine of Plainfield, have decided to compete in Saturday afternoon's 50-lap SK Modified race, part of the North-South Shootout at Concord Motorsports Park. That's Concord Motorsport Park located in North Carolina. As in, according to Mapquest, 737.91 miles and 12 hours, 18 minutes driving time from the Speedbowl. Each racer has received a promoter's option into Sunday's race, meaning they won't need to qualify on Saturday. What each should earn, if you're a big fan of novelist Stephen Crane, is "The Red Badge of Courage."
Neither Fox (of Plainfield), Janovic (of Waterford) nor Silk (of Norwalk) has a chance to win the points championship, a battle that will be decided between Ron Yuhas Jr., Rob Summers, and Dennis Gada. Yuhas took the Speedbowl's North-South Shootout qualifier on Sept. 24. He, perhaps with a little more sanity than the others, chose to only race this weekend at Waterford. "To me, it's going to be like your high school senior prom all over again," said Fox, who's struggled throughout much of the 2005 season and was involved in a vicious wreck in August. "It will be like pulling an all-nighter. It's sure to be an adventure."
Janovic has had one of his better Waterford seasons. He's currently fifth in points, best of the group. "It's my duty to finish my season at the Speedbowl," he said. "I owe it to my fans and definitely to my sponsors. I would hate to leave any unfinished business, to not take the opportunity to win one more Waterford race." Janovic and car owner John Volpe are having lots of fun with thoughts of driving most of the early evening and then all night in order to make it back. "Our crew chief and spotter, Greg Hanner, is the cruise director," Janovic said. "He's responsible for all stops. There won't be many, but I hope he picks some good ones."
The idea of finishing a race at one point on the east coast, then heading off for another conjures up memories of years past. It's a throwback to another era when modified legend Richie Evans would chase national points. He'd race on a Saturday night at the Islip Speedway on Long Island, load up and make a Sunday afternoon show at the Utica-Rome, N.Y., Speedway.
Veteran New England late-model racer Dave Dion, who's recently published autobiography is a gem, also performed equal feats, chasing races around all parts of the six states back in the 1970s. Fontaine views this as a look back. "It's like the old days," he said. "There was that wonderful time when you got in the hauler and headed off to a distant track. You knew there were going to be obstacles to overcome, but you dealt with them. It's a challenge that we're looking forward to." Of course, this never would've occurred if rain (a near-record 16.5 inches in some parts of Connecticut during October) hadn't forced postponements and left Waterford management with few options other than to run this weekend.
It's given Speedbowl General Manager Bill Roth an opportunity to piece together a very creative quote. "The sense of drama isn't wasted on any one of those guys," Roth said. "The point for greatness is all over this. All three can win in Connecticut, or in North Carolina, or both." Toss in a little lunacy and it makes for a tremendous tale, one to tell future generations.
---
Speedbowl's Janovic, Silk Face Long Distance Haul
Speedbowl Press Release 10-29-05
"It just like the old days, the way it used to be," says Bruce Fountaine. He is actually "excited" about a drive-through-the-night haul. "The crew is really fired up," offers Rob Janovic Jr. "Originally we were all excited about going south. Now the idea of coming from North Carolina back to race at Waterford Speedbowl just adds to it." Fountaine's #1, driven by Ronnie Silk, and Janovic's VoJan #51, plan to compete in both Saturday's 50-lap SK Modified feature at the North-South Shootout at Concord Motorsports Park in Concord, NC and in Sunday's 100-lap SK-Modified segment of Waterford Speedbowl's twice postponed Town Fair Tire Finale on the Nov. 4-5-6 weekend.
Sunday's SK and Late Model 100 lappers highlight the 12-division, two-day Finale. Each brings an exciting point race to a close as the Speedbowl pulls down the curtain on its 55th consecutive season. Janovic and Fountaine are deeply engrained in that history. Both teams have expressed gratitude to Speedbowl Race Director Bill Roth for his cooperation while Roth is "absolutely overwhelmed" by the loyalty.
"Fact is, it is almost a duty to finish the season at the Speedbowl," says Janovic, a winner in both SKs and Late Models and part of the scene for most of his life. "I owe that to my fans and definitely to my sponsors. I would hate to leave any unfinished business, to not take the opportunity to win one more race." Janovic and co-owner John Volpe are actually "having fun with this." In addition to crew chief and spotter, Greg Hanner is now also "cruise director" reports Janovic. "We got this planned out pretty good."
Fountaine, well versed in racing history, knows full well there was a time when all-night hauls between events was hardly unique. "Actually, this is kind of neat," says Fountaine who expects to be back in time to be part of Sunday's 10:30 Pit Party. "I want to support the Speedbowl and I want to win the race," says Fountaine, pointing out "we've been so close so often this year." The crew, he reports, is "geared up" while the 21-year old Silk suggested they find a Friday race. "Ronnie's all for it," says Fountaine.
Both will start in the rear with promoter's options. Neither seems concerned. "We are going 100 laps," said Janovic, a two-time winner this year. "We usually come from the back anyway."
---
It's A Game Of Inches For Janovic
Gains the edge in SK modified race on a restart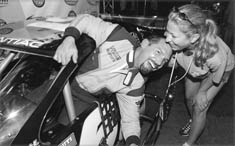 Photo by Tim Cook
SK Modified driver Rob Janovic Jr. is helped out of his car Saturday by his wife Annette after winning his division at the Waterford Speedbowl. It was Janovic Jr.'s second victory of the season.
By JASON CHRISTLEY
Day Sports Writer, High School
Published on 8/21/2005 Waterford — During practice Saturday afternoon, Waterford Speedbowl track officials placed cones around the inside lane of the 1/3-mile oval with the hope of improving racing. The thinking was if the cars were forced to run the outside lane exclusively — at least for one practice session — they would burn enough rubber off the tires and onto the track to make both lanes comparable. It worked, to a point. At least enough for Rob Janovic Jr.
"The outside groove does stink here," Janovic said, "but I think we have the car set up right."
Janovic was able to use that outside lane to briefly nose ahead of race leader Diego Monahan midway through the 35-lap SK Modified feature. While Janovic wasn't quite able to drive past Monahan, the momentary advantage he gained while crossing the start-finish line propelled him to his second win of the season. A caution moments after Janovic led his first lap of the night — albeit by only inches — put Janovic in the preferred position of being in the inside lane for the restart and in position to lead the final 18 laps. Janovic used the inside lane to pass Jeff Pearl for second four laps into the 35-lap race. Two cautions allowed Janovic to line up outside of Monahan. Each time, Janovic stayed side-by-side and tried to keep pace on the outside. At one point, he slid back and raced alongside Pearl. But within a few laps, he moved back to Monahan's right side.
"I wasn't going to drop in," said Janovic. "I was going to stay outside there for all it's worth. … I give Diego credit. I'm sure he was doing everything he could not to get into me." A spin with 17 to go opened the door for Janovic.
He immediately got on the radio to his spotter, asking for a double-check of the restart lineup, insisting he had the lead at the start-finish line — a crucial judgment because the lineup reverts to the running order of the last completed green-flag lap. Seconds later, Janovic's spotter keyed his radio and told his driver, "go ahead and take it, it's yours."
Janovic got a run on Monahan on the restart. Before the lap was completed, however, Pearl and Monahan made contact in turn 3, leaving Pearl's car in a heap against the retaining wall. Monahan was sent to the back for his involvement. On the next restart, Janovic pulled away from the new second-place car of Ronnie Silk.
"I was really happy with the car," Silk said. "Just Janovic was real good all day."
Janovic, Silk, Dennis Gada and Robbie Summers ran nose-to-tail for the remainder of the feature. Jay Miller finished fifth.
Janovic Rules Speedbowl Modifieds
Speedbowl Press Release 8-21-05 Pulling away on the last restart with 17 laps remaining, Ron Janovic Jr. won the 35-lap SK-Modified feature Saturday night at Waterford Speedbowl. It was the second win of the season for the Speedbowl veteran.
Several laps in the outside groove doing battle with Diego Monahan proved to be the key for Janovic. "If you work hard enough, you can run [in the outside groove]," he said, pointing out the crew "purposely set the car up tight so it would be good out there."
The final caution ended a great side-by-side battle between Janovic and Monahan. "I wasn't going to drop in. I was going to stay outside and make it work," said Janovic who praised Monahan for "doing everything he could not to get into me."
On lap 16, the circuit before the final yellow, Janovic had the slightest edge at the line. "That was huge," he continued. "It put me in the position I wanted to be in, the bottom lane."
After an aborted attempt, (Jeff Pearl and Monahan made contact in turn three, Pearl crashing badly and Monahan going to the rear), Janovic got the edge on eventual runner-up Ronnie Silk on the final restart. Silk saw it as a just result claiming, "Rob and I probably had the fastest cars out there. Rob was quickest all day."
It was a tough result for Pearl who ran with the leaders most of the way. Dennis Gada, Rob Summers and Jay Miller were third through fifth while point leader Ron Yuhas Jr. came from an early incident to finish ninth.
---
Janovic Uses Yellow Flags to His Advantage to Pick Up Checkered Flag
By PETER
VANDER VEER
Special to the Bulletin
——————————————————————————–
WATERFORD– Rob Janovic proved Saturday night at the Waterford Speedbowl that you can still be fast, even though you're a married man. Janovic used the outside lane to perfection in winning the 35-lap SK Modified feature. It was his second victory of the season (his last came on June 11 when he was still a bachelor). The Waterford driver ran ahead of Ron Silk (Norwalk), Dennis Gada (Salem), Rob Summers (Vernon) and Jay Miller (East Granby).
Starting sixth, Janovic stuck on the bottom of the track for the first six laps, looking for advantages on restarts as the yellow flew three times.
"We purposely set the car up tight so that it would be good on the outside," said Janovic, who was married four weeks ago. "When I got pinned down there, I thought I was in trouble."
Once he was able to move to the top, he and the car responded. He pulled even with race leader James (Diego) Monahan who was seeking Speedbowl history with a win. He would've been the only driver ever to compete at Waterford and win features in the SK Modified, Late Model, Sportsman and Mini-Stock Divisions.
Instead, Janovic battled Monahan side-by-side for four laps, then pulled ahead just before the race's fifth caution came out.
"That was huge," Janovic said. "It put me in the position I wanted to be in."
On the following restart, Jeff Pearl got past Monahan for second and then ended up in the third-turn wall with a little help.
Monahan was sent to the back of the field.
On his run to the finish, Janovic had mild pressure put on him by Silk while Gada, taking third, cut slightly into Ron Yuhas' points lead (606-564).
"Up until the last three weeks (when he had a third on Aug. 5 and a seventh on Aug. 12) we had one win and a bunch of bad finishes," Janovic said. "Hopefully, this will get us going in the right direction."
---
August 5, 2005
WATERFORD, Conn. — 51SK Modified's VOJAN Motorsports team and driver, Rob Janovic Jr., are making a special appearance at the Waterford Public Library for the library's Summer Reading Program. Over 500 children signed up for the program according to the program coordinator, Ms. Nadine Lipman. If past performance is any indication of what one could expect, around 150 children should complete the program.
Rob will be talking up close and personal with each of the children and he will show them the car and racing equipment. A highlight of the event is Rob's reading of a racing story to the children. The display of the always well prepared 51SK is highlighted when the race car is started and the kids get to hear and feel the sound of the 400+ horsepower engine roar. Over the past few years, a dozens children and their families have enjoyed the event. Denise Hanner who is an elementary teacher and Rob's sister came up with the idea of Rob's appearances four years ago when her two daughters signed up for the summer reading program.
The children learn that Rob's success in racing and life has a foundation formed from good reading skills. Those skills were essential for his completing his Bachelor's degree in college and are skills he uses every day. Our hopes are that this special appearance motivates the children to enjoy the world of reading. Through their success, they can come see our world of short track racing at the Waterford Speedbowl because the Speedbowl is providing the library free tickets to a racing event for those children who complete the reading program.
What a great combination of giving back to the local community…a local Waterford resident who is a NASCAR Weekly Racing Series competitor and the local Waterford Speedbowl, both work together donate their time to the children in the Waterford community! Reading and racing are both fun!
---
Late move gives Janovic a win over Mucciacciaro in Modified
Article published Jun 12, 2005
By PETER VANDER VEER
Special to the Bulletin
WATERFORD– You wouldn't exactly say Waterford's Rob Janovic Jr. stole a feature from Frank Mucciacciaro Jr. of Milford in last night's 35-lap SK Modified feature at the Waterford Speedbowl.
The proper term might be that Janovic took advantage of a good situation with two laps remaining, taking the inside route to pass Mucciacciaro going into turn one for the lead and eventual victory, his ninth in the division and 17th overall at the Connecticut Shoreline oval.
"We just didn't have a good car tonight," Janovic said. "We were very bad on entry, so it was surprising that I was able to pass him that way."
Janovic sat in third place for most of the feature as Mucciacciaro led for all but part of a lap and had to struggle through consecutive restarts during a series of yellows on lap 19.
"It took me about four laps to get up to speed on those restarts because my car was loose," Mucciacciaro said. "Once Rob got to second (by passing Ronnie Silk on lap 18), I knew that he would be tough. My hats off to him on that move. He saw his chance and took it."
Silk eventually got by Mucciacciaro on the white-flag lap for second. His best finish of the season.
Mucciacciaro was third, followed by Jay Miller and Tom Fox.
"I knew that Frank was a little slow," Janovic said. "Tonight, when we got that late restart (with three to go), I made a choice. So many times in the past, I'd stay back and figure that a second or third would be alright. Tonight, the thought came to me just before the restart that maybe this time I'd take a shot at the win. He's such a nice guy that I almost guilty about beating him."
---
Janovic Wins Modified Feature On Pass With 3 Laps To Go
Driver Says Victory May Be 'one Of The Sweetest Of All'
By JASON CHRISTLEY
Day Sports Writer
Published on 6/12/2005 Waterford — Rob Janovic Jr. usually doesn't need much prompting to produce something quote-worthy. Usually.
Climbing from his SK Modified on the front stretch Saturday night, though, Janovic was not at his most eloquent. But while he may not have said anything memorable following his ninth career victory in the Waterford Speedbowl's premier division, the victory itself was unforgettable. "I don't freaking believe it," screamed Janovic before pausing briefly to compose himself. "Wow. Man, that was awesome. Maybe one of the sweetest of all."
Janovic scooted underneath Frank Mucciacciaro Jr. with three laps to go following a single-file restart to capture the caution-filled 35-lap feature that took little more than 45 minutes to complete. Mucciacciaro, who missed last week's race due to motor problems, led the first 32 laps Saturday night but had to settle for third after getting passed by Ronnie Silk as well in the closing laps.
"Frankie was running tough — he deserved to win," Janovic said. "I was ready to settle for second and bring the car home in one piece and be happy with it." Instead, Janovic used the race's final caution to set up the winning pass.
Track conditions made passing on the outside impossible. Janovic was strong off the corners but struggled to maintain enough speed going in to complete a pass. Mucciacciaro needed several laps to get up to speed, which wasn't a problem when the restarts were side-by-side. Repeated cautions, however, prompted race officials to switch to a single-file restart. "Once it went single-file, it was every man for himself," said Mucciacciaro, who was loose out of the corners. "And Rob did a great job. He got under me and that was that."
"I knew if I had any chance at him," Janovic said, "it had to be immediate. That last caution, I knew where he was slow and I knew where I had to take him and where by best shot was going to be. "It was really his race. I stole it from him." Janovic got a nose underneath Mucciacciaro coming out of turn 4 on lap 32 and made the pass stick as they slid into turn 1. Silk also used the opening to make the pass for second and had a run on Janovic with two laps remaining but couldn't complete it. "He did was he was supposed to," Silk said, "and he protected the bottom."
---
3/25/05 Speedbowl News
Janovic Joins Speedbowl SK Royalty
Rob Janovic Jr. insists he heads into the 2005 Waterford Speedbowl SK-Modified season "better prepared than ever." About to start his 18th season as a driver, he believes "if we are to ever win a championship, this would be the year." The Speedbowl beings its 55th season April 2-3 with the ninth annual Budweiser Modified Nationals. The $20,000, $5,000-to-win SK 150 tops a menu that also includes the Speedbowl's Late Model, Sportsman, Mini Stock and Legends divisions along with the Pro4 Modifieds, AllStar Race Trucks and Legacy Cars. Waterford native Janovic, about to start his 5th SK season, has climbed into what amounts to Speedbowl royalty. He shares membership with five-time champion Dennis Gada, defending champ Ed Reed Jr., Ron Yuhas Jr., Jeff Pearl and Tom Fox – the top SK winners since the facility returned to NASCAR in 2000. It is, Janovic points out, a sextet of homegrown boys who claim a "unique ownership" of the Connecticut oval. "We have known each other for years so there is a special bond. There is a special trust between us," he says. Janovic has nine SK wins over the past five seasons. He won twice last year en route to a fifth place finish in the points battle.
"Neil Bonnett said 'winning is the ultimate goal but being competitive is the ultimate satisfaction," offers University of New Haven graduate Janovic. "My satisfaction comes in me and my team being respected; people look at the No. 51 and know it's a competitive car. It is, he boasts, "one of the best feelings. When I started (in the Late Model division) I would look at the heat line up and fret that Phil Rondeau or Tom Fox was in my heat. I like the fact that that maybe now guys like up at the board and say 'the 51 is in my heat.'"
He doesn't consider himself "a natural talent," making him different from the others. "Nobody in my family was ever into racing, not my father, not my uncles," he says. "The others, when they started, they had a father able to tell them what to do, what not to do. I had to learn everything myself." There were only two divisions when "the completely green' Janovic started. "You pretty much had to start in Late Models," he says, pointing out he was "taken to school right away by the Rondeau brothers, the Cote brothers. It was tough going for a long time." His finally won in 1996, the first of six Late Model wins over four seasons. He moved to Modifieds in 2000 (winning once). He tried Late Models again (winning in 2001) before helping form the VoJan team.
Current crew chief Greg Hanner also has little racing background. "He has been successful because he has such a thirst for knowledge, for learning," Janovic says. "Once he decided he wanted to do it, he was like a sponge."
He recalls wondering how he would react following his first win ("a expletive came out of my mouth"). He was well aware that first SK win put him on special plateau – "you are as high as you can go; you won a race in the premier division at your track." He would like to join boyhood friend Gada, Reed and Pearl on the championship list. He's betting on "better preparation, an experienced crew and better horse power (GCR engine)" making it happen. But, it's not going to be easy.
"It has become common knowledge you're going to find the best racing in Connecticut at the Speedbowl," he says. "With the guys coming, you can expect is will be the most competitive also. Nailing down a win at the Speedbowl is going to be something to boast about."
12/28/04
VOJAN Motorsports Update Well, the 51 SK modified is back from the chassis shop after completing some repairs and updates. The team's positive momentum at the end of the year was directed to tearing down the car to the bare frame so that it could be sent out to the chassis shop before the Thanksgiving holiday. Rob and the team are working to put the car back together so the newly painted body can be hung before the new year. The team is debating the new paint scheme details for the 2005 season car…so you'll have to wait until our pre-season appearances to see what Rob's got cooking in the paint scheme department.
We're happy to say that all of the VOJAN Motorsports team members and most of last years sponsors will be back along with a few new sponsors.
---
9/5/04 Speedbowl News
Janovic, Coates Score at Speedbowl
A media member chased down and finally informed Rob Janovic Jr. a half hour after the checkered fell on somebody else that he was indeed the winner of Saturday night's 35-lap SK-Modified feature. Doug Coby, who crossed the line with Janovic glued to his bumper, was DQed for height violations.
"I most certainly would have rather celebrated it differently," Janovic informed the sportswriter. "I don't feel quite as bad knowing we were certainly faster than [Coby] at the end.
Coby took the lead shortly after a mid-race restart, tucking inside Tommy Fox exiting turn two. Janovic followed him and soon found himself in a battle with Fox that raged until the final laps. Three yellows kept the racing tight.
Janovic, who now owns two '04 victories, didn't own second until the final restart with five remaining. He actually lined up third behind the troubled Fox ("the car was just too loose coming out") but easily secured second and then welded himself to Coby. Fox wound up second.
"I thought 'keep the car on the bottom and we'll be golden," admitted Coby, who started 12th. "It was a matter of keeping the car on the bottom."
Officials ruled Janovic "involved" in a third-lap wreck (he strongly disagreed), sending him to the rear. Despite three cautions, he climbed back to the top five by mid race.
Point leader Dennis Gada was eliminated in the wreck and wound up 24th enabling third-place finisher Ed Reed Jr. right back into the point race (four behind). Ron Yuhas Jr. was fourth and Johnny Brouwer Jr. fifth.
---
The Day – Sunday, September 5, 2004
Coby DQed: Janovic wins
By JASON CHRISTLEY Ron Janovic Jr. threw his hands in the air and let out a loud scream in celebration. Not a typical reaction to a victory, even if it wasn't a traditional setting. More than a half hour after taking second place in the 35-lap SK Modified, he was informed that the original winner Doug Coby had been disqualified. Janovic was sitting in the stands waiting for the Featherlite Modified race to start when he got the news.
Turning to the crowd behind him, baffled by Janovic's sudden outburst, he apologized, "Usually I'm on the track when I win, not up here with you guys."
Coby was DQed during post-race technical inspection for chassis height. He was lower than the minimum two-inch clearance when he was checked on his rail, crankcase and fuel cell. It would have been his second win of the season.
Janovic pressured Coby over the closing laps. However, the outside groove wasn't fast enough to make the pass and Coby hugged the bottom line.
"I most certainly would have rather celebrated it based on performance," Janovic said. "I don't feel quite as bad knowing we were certainly faster than him at the end."
Points leader Dennis Gada took a huge hit when he wrecked four laps in and finished 22nd. His nearest challenger Ed Reed Jr. was third behind Tom Fox, closing the points gap to just four points (782-778).
Raceway Media Magazine- Sunday, September 5, 2004
Waterford Speedbowl Results Rob Janovic of Waterford won the 35-lap SK-Modified feature after Doug Coby of Milford was disqualified for chassis height. Coby took the lead with a bold inside move out of turn two with 15 laps left and then survived three cautions to finish less then a car length in front of Janovic. Early leader Tom Fox of Plainfield was second with Ed Reed Jr. of Waterford third.
---
Norwich Bulletin – Friday, July 9, 2004
For Janovic, auto racing just one of life's circles East Lyme's Rob Janovic Jr. has spent the last 20-something years of his life trying to put it all in prospective.
As committed to area short-track racing as anyone he's ever lined up against, Janovic has also grown to realize that the sport is only one aspect, one outlet, for him. "I've seen so many guys lose so much," he said. "There have been cases where marriages failed, or jobs were lost because of racing. There is definitely more than just going around in circles inside a car."
For Janovic, that well-rounded life includes a stint in broadcasting in the mid-1980s; earning two college degrees, and now a job in the automotive profession as the Service Manager at Import Auto in Stonington. And, he certainly enjoys his Saturday nights driving an SK Modified at the Waterford Speedbowl. He describes the current season as, "one of several upswings, but too many downswings." Janovic has a win and is in the top-10 in points, fighting like everyone else for that coveted Waterford SK Modified crown. "But," he cautions, "I realized a long time ago that I wasn't going to become the next Richard Petty. I knew that I needed a career and would always consider racing important, but not vital."
He first got into a race car in 1986, pretty much following along in the footsteps of his high school classmate Marc Atkinson, once a Speedbowl driver and now a regular in Stafford Motor Speedway's Late-Model Division. "I didn't come from an automotive background and my parents weren't involved," Janovic Jr. said. "But when I saw Marc just go out and buy a race car, I figured, because I loved racing so much, that I could do it, too."
His first night out proved to be quite an experience. He was black-flagged and, upon reaching the infield, was stopped by an official. "He asked me if I had a fire extinguisher," Janovic now recalls fondly. "I thought it was part of one of those spot inspections. I said, yes and he replied, 'well, you better use it because you have a fire in your engine compartment.'"
After three very intense seasons in what was then Waterford's Late-Model Division, Janovic made a decision to put his racing on the "back burner." He'd gone to Dick Robinson's Connecticut School of Broadcasting in the 1980s and had made overtures at the time to ESPN about becoming an auto racing broadcaster. "What they'd tell you to do is pack everything in your car and head down South," he said. "They would be willing to give you an audition, but nothing was definite. To my way of thinking, you had to put too much on the line."
So, Janovic did two stints in local radio, at WNLC in New London and at WFAN in Pawcatuck before going off to college (he earned an Associate's Degree in Business from New London's Mitchell Junior College and a Bachelor's from the University of New Haven). "I've never regretted any of the moves that I've made," he said. "As much as I've loved racing and sometimes wonder if I might've had a future in either television or radio, I've been able to scratch out a pretty good existence by going in a different direction."
Having had to learn just about everything from scratch when it came to driving and building cars and then relating it to his teammates (it was like the blind leading the blind), makes it all the more meaningful to Janovic. He returned to late models in 1995 and made the transition to modifieds in 2000. His best points finishes have been a pair of thirds in each division and he has seven SK Modified victories. "The nicest part of this is when I returned, all the guys who were along before got back into it," he said. "Everyone of us has a college degree. Some guys got married and some now have kids. It's like a Guys Club. Instead of playing poker on a Thursday night we're at the Waterford Speedbowl on Saturday night." And, rather than looking for a Royal Flush or a Full House, Rob Janovic Jr. is always in search of reaching the finish line first.
By Peter Vander Veer who covers auto racing for the Norwich Bulletin.
---
5/22/04 Speedbowl News
Last weekend, things couldn't have gotten any worse for Rob Janovic Jr.
This weekend, they couldn't get any better. Janovic, running a backup engine, became the seventh different SK Modified winner in seven weeks when he pulled away from Dennis Gada over the final 13 laps.
A week ago, Janovic suffered a minor parts breakage during the second practice. He and his crew didn't want to risk fixing the part, so they fetched his backup motor from his house three miles from the track. Unfortunately, the rush resulted in a faulty clutch and a 15th-place finish.
They had sufficient time, though, to install the motor over the following week and the result was a first-place car.
"I can't thank my crew enough," said Janovic. "Every single Saturday night I've said 'This is the night.' And this was it."
The race didn't get into turn one of the first lap before a caution came out. When the feature restarted again, Janovic, who started fourth, powered into the lead.
It took eight laps for Gada to find a way around the third-place car of Ronnie Silk. Gada finally made the pass on the inside with 22 laps remaining and, six laps later, went around the outside of the second-place car of Chris Pasteryak. Gada's march from his 12th-starting spot, though, took its toll on his tires and he was never able to challenge Janovic.
A pair of cautions with 13 laps remaining erased Janovic's lead but he wasted little time in getting it back.
"I was actually surprised that we got away from him as quickly as we did," said Janovic of Gada. "And then I was more surprised when my spotter said we were pulling away from him."
The backup motor Janovic ran was the same backup motor he ran in his only win last season.
"I love this motor," said Janovic. "I've always loved this motor."
Gada, the points leader, settled for second and picked up eight points on Ed Reed Jr. (who finished sixth). Gada now leads Reed, 306-278.
Pasteryak was third, followed by Ron Yuhas Jr. and last week's winner Doug Coby. John Bergenty was seventh, Frank Mucciacciaro eighth, Dennis Charette ninth and Jeff Pearl 10th
---
3/18/04 Speedbowl News
Winning Races Top Goal
For Janovic, VoJan Crew
The goals for driver Rob Janovic Jr. and the VoJan Motorsports team at Waterford Speedbowl don't change a lot. Starting his 17th season, Janovic insists "I've been racing too long to get caught up in over analyzing things." There are two major changes at VoJan: power from GCR Specialties and sponsorship from Cyclone Home Systems and ServPro of Norwich. The objective, Janovic says, "is to win as many races as we possibly can. We want to be in contention to win all the time, to leave every Saturday night with a good feeling. Let the points fall where they may."
It all begins with the $5,000-to-win SK-150 portion of the March 27-28 Budweiser Modified Nationals. The $20,000 event highlights the eighth annual edition of the "Nats" which, this year, is the first racing event in New England. Thirty cars will start the 150, the first 20 coming from Saturday time trials. Fast time earns $500. The championship season begins for the Late Models, Sportsman, Mini Stocks and Legends in addition to the SKs. Everybody, including the visiting AllStar Racing Trucks and Pro4 Modifieds, qualify on Saturday. The Legends, Trucks and Pro4s run 25-lap features on Saturday night.
A 50-lap Late Model feature and 30-lappers for the Sportsman and Minis join the SKs on Sunday which kicks off with the Pit Party at 10:30 AM.
"Worrying about points," Janovic insists, "takes away from having fun and wanting to win races. A couple times over the last third of the season when I was in contention, I've thought about points. Racing and work are stressful enough without worrying about points every week. They are a distraction."
Winning only once in 2003 was a disappointment for Janovic, about to start his fourth season in a Modified, the third with VOJAN. "We don't need a lot of good luck this year," Janovic begins. "We need a lot less of the bad luck that hurt us last year. We've got all the other ingredients to win consistency – a new motor program, solid sponsorship and an unchanged and stronger team."
Greg Hanner, Janovic's brother-in-law, heads up the crew. "Greg started off as a non-racing person," says Janovic. "We've molded him into the kind of crew chief we want."
There is a website as well – www.VoJanmotorsports.com – and Janovic promises, "results in almost real time" this summer.
Janovic, a life-long friend of the Speedbowl's predominant Gada family, spent many seasons in Late Models before switching to the Modifieds four years ago. He is part of a group of drivers that includes Johnny Brouwer Jr., Jeff Pearl and Ed Reed Jr. with long ties to the Speedbowl.
---
Janovic Posts "Pre-Season" Victory with 1st Place Finish In Celebrity Cook-Off
Competition @ Hartford Civic Center During Special Appearance –
Click Here to Check Out Photos From The Show