Category:
Waterford Speedbowl
Heats: Started 4th, Finished: 1st (of 10 cars)
Feature: Started 6th (of 19 cars), Finished 13th (Finishing Order: 78, 27, 36, 13, 66, 72, 6, 98, 44, 04, 43, 51, 88, 7, 15, 20, 3, 85)
Comments:Great day for racing with mostly sunny skies and minimal chance of passing shower in the early evening. Primary goal for today is to finish with a top 5 or better. Practice rounds were OUTSTANDING and we're happy with the feel/performance with the chassis changes we tried out. Test will really be performance in racing conditions for Heat and Feature race. Rob was 2nd quickest today in practice.
Heat race was pretty good with Rob racing hard with the 78 for the lead. Caution came with 3 laps to go. Rob got the jump on the restart after the 78 cracked the throttle and he drove it home for the heat win. Lap times were pretty good also: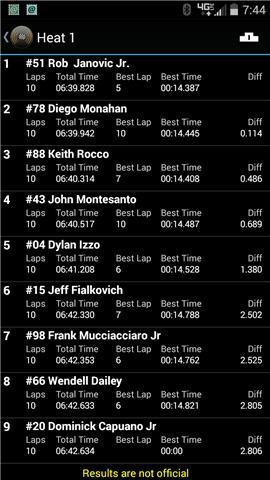 Feature started out pretty good and Rob was up to 3rd by the time the first caution came on lap 5. Rob than was up to 2nd by lap 6 and ran in 2nd until lap 12 when the 27 got by. Then there was a big wreck with about 15 laps to go when the 88 of Rocco got loose coming out of turn 4 and he hit the front chute wall collecting the 7 and 13. Rob restarted 2nd I believe and ran hard but the 72 got the inside advantage and Rob then got cleared to fall back into 3rd before another caution came with 2 laps to go. Going into turn 3/4, I'm not sure what happened but the right front of the 51 got into the left rear of the 72 who was in second and he spun and Rob found he had damaged the right front spindle forcing us to pit with 2 laps to go. We were going to the rear anyway for contact with the 72 – we never made it back out in time to rejoin the field before the race went green. I guess the only good thing is the car was pretty good and the bent spindle is just a bold on part we'll replace this week. Hope to do better next week.
8-2-15 Update: Figured out what happened last night – Rob got hooked by the 44 (getting into Rob's right rear with his left front) then the 44 jacked up the 72 to finish him off. Here's 27 in-car camera footage played at 1/4 speed showing contact:
Here's Sid's highlights form last night: