Category:
Waterford Speedbowl
Heats: Started 4th, Finished: 1st (of 9 cars)
Feature: Started 4th (of 19 cars), Finished 6th (Finishing Order: 3, 88, 6, 27, 72, 51, 78, 47, 44, 43, 2, 98, 17, 15, 04, 66, 3, 7, 55)
Comments:Partly cloudy and temps in the upper 70's – low 80's sets the stage for another great night of racing today at the Speedbowl. We're bringing a slightly different chassis package to the track today and it will be interesting we the car performs better OR if I have to dial out the changes. We won't really know the results until after the heat race as the 2 practice runs are really used to dial the car into the day's track conditions.
5:15pm: Temps up in low 80's and humidity being elevated will rob cars of power tonight plus it's pretty uncomfortable thrashing on our car when the sun isn't in the clouds. The chassis was really bad in first few practice rounds and we're not really sure why. We took out changes that we did at the shop and that still didn't help much in the 3rd round of practice. Car is just plain tight into and in the middle of the turns. Did more changes and I sure hope the car is better. Total of 8 changes to try to get the car back into the ball park where we should be.
7:05pm: Perfect! Heat race was awesome and the car turned on a dime. Rob built a 3/4 of a chute lead on 2nd place car and I did all I could to try to get him to slow down. We're looking to carry the handling into the feature where we start 6th of 19 cars tonight. There's not much of an outside groove – 1st SK Modified heat saw the field stretched out single file. Our heat got to be close to the same thing. Looking at the lap times, Rob's lap times backed up the speed as he turned a 14.263 second lap and the next quickest car was the 78 of Monahan who was 2nd quickest with a 14.415 second lap.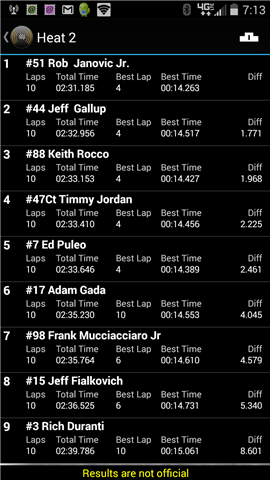 8:42pm: Feature was a challenge. Early on, the outside row came backwards (Rob fell back to 9th by lap 2) and inside row had the advantage. First caution came with 1 lap complete and Rob restarted 7th. Field got strung out and there really wasn't much side by side racing. 2nd and final caution came with 5 laps to go and Rob restarted 7th. Finished the race in 6th. The issue turned out that the tire stagger grew much more than expected. Car is in one piece so we'll go through it and hope for a better finish next week.