Category:
Waterford Speedbowl
Heats: Started 3rd, Finished: DNF (of 8 cars)
Feature: Started 18th (of 24 cars), Finished 6th (Finishing Order: 78, 13, 88, 27, 72, 51, 04, 44, 98, 47, 43, 77, 17, 15, 66, 85, 3, 6, 2, 49, 21, 20, 7)
Comments:Outstanding sunny cool day for racing. Dry and cooler temps later this evening should make for lot's of power and much better lap times unlike the conditions we had last week. Car was fastest car during practice rounds and Rob was very happy with the handling.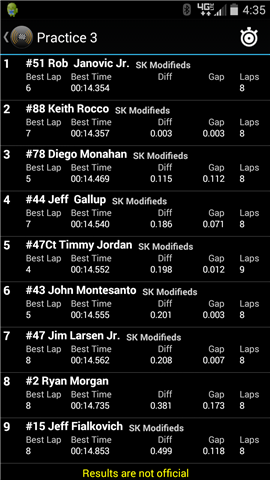 Starting 3rd in Heat race, Rob is looking for heat win #9. Hoping the car is "there" for him to get it.
6:41pm: Heat Race was going great – Rob got the lead and then drove away with a 4-5 car length lead. With 4 laps to go, in the middle of turn 3 and 4 the car snapped sideways and Rob made a great save. Then Rob pulled down to the low groove as we were not sure what broke. Rob decided to pull to the infield to prevent damage to the car. After pitting, we found the radiator cap had come loose and apparently, there was water coming out from under the cap (not at a rate that was visible) and it was landing right under the right rear tire! Needless to say, that was a big disappointment and loss of potential points and starting position. Rob starts 18th of 24 cars.
9:03pm: Well starting near the rear of the field is not something we're used to. First caution came with 30 laps to go when 21 had an issue in turn 4 and came to a stop – Rob restarted 12th. Car was quick on the outside, but there was a lot of side by side racing in front. Next caution came with 27 laps to go and Rob restarted 10th. Final caution came with 22 laps to go when the 6 of Dennis Gada (who was filling in for his son Joey who was in the delivery room for his baby daughter's birth!) – Rob restarted 7th. There was some hard racing and Rob continued to work the outside but then the 04 if Izzo became an issue as he pinched Rob off into the front and back chute walls multiple times. His spotter will soon learn to inform his driver that there's overlap by a car on the outside – net result of doing that often is the car pinching the car to the outside off gets hooked and normally hits the wall a ton needing a front clip. Rob backed out of the throttle multiple times but then stayed in the throttle and hit the back chute wall and finally made the pass. There was just no time left to catch the front runners. We made lemonade out of the lemons we had from the heat race issue. Next week, we'll be back on top of our game and hope for a better finish.