Category:
Waterford Speedbowl
Heats: Started 2nd, Finished: 3rd (of 8 cars)
Feature: Started 5th (of 22 cars), Finished 4th (Finishing Order: 27, 6, 88, 51, 72, 78,77, 44, 47, 13, 25, 21, 98,15, 49,85, 2, 66, 01, 36, 3, 04)
Comments:Partly cloudy – but nice day for racing with low humidity. The car was OK for first few laps of Practice 1, but then Rob pulled down to the low groove with a problem. Turns out that a plug wire came off the distributor. Second practice – Rob confirmed the car was up to speed (3rd quickest):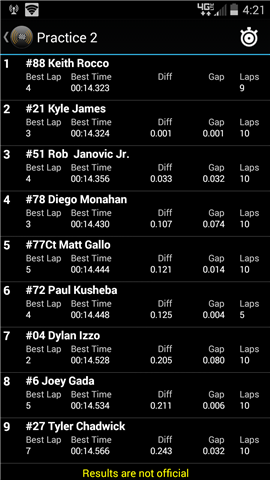 Heat race was uneventful – car was too free off turns so we will tighten the car up for the feature.
Feature was a disappointment plain and simple. Car was tight in the beginning of the race and then got very free on corner exit despite our efforts to tighten it up. First caution came with 28 laps to go and Rob was the leader at that point (36 hit turn 4 wall bringing out the caution). With 27 laps to go, Rob restarted 2nd outside the 27 – the car was tight at that point. With 14 laps to go Rob restarted 4th. With 12 laps to go, Rob restarted 4th again. With 11 laps to go, the 47 spun on the back chute and Rob restarted 4th. Despite the ill handling car, Rob was making the best of what we had. The 13 and 88 were coming. With 7 laps to go, the 13 got 4th and Rob fell back to 6th. With 5 laps to go, the 13 and 21 got tangled up in turn 1/2 to bring out a caution and Rob restarted 4th again. The good thing, is the car is not damages, the bad thing, we've got our work cut out and we need to get better handling in the corners in order for better finishes.
Here's Sid's view (set to start at beginning of SK Modified race – some cool drone footage of the track is at the beginning of the video):
Here's in-car footage of the race: