Category:
Waterford Speedbowl
Heats: Started 8th, Finished: 5th (out of 8 cars)
Feature: Started 10th (of 16 cars), Finished 6th (Finishing Order: 13, 88, 38, 78, 72, 51, 36, 44, 47, 1, 7, 98, 27, 6, 66, 3)
Comments:Overcast day after morning showers – chance of rain increases to above 50% after 5pm so it will be interesting to see if we get the races in today. Radar looks good right now
5:21pm – So far weather is cooperating as rain is in NY so we should be OK for tonight's feature events. The practice sessions were pretty good. Our issues tonight will be we're running left front tire with 160 laps on it (due to last's week's penalty (see last week's update for details) and we just found out that we were also given a handicapping penalty (see rule 1.5.2.c) where we are given a win for last week and that puts us dead last in top tier of cars. Rob will have his hands full trying to get up into 4th or better for a top tier handicap (which should mean a 12th place starting position in the feature). Here's the lineup for both SK Modified heats: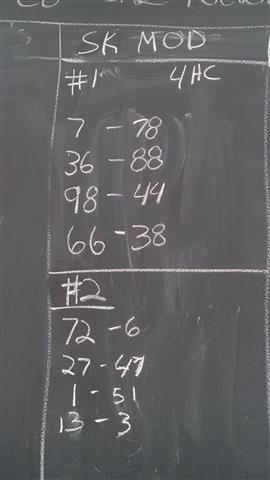 6:30pm: Heat race was uneventful and there was really no where to go. We'll hope for the absence of bad luck and with a stable fast car like we have had, Rob should be able to battle and race his way up into the top 5 or better despite running older left front tire than others have.
8:41PM: Feature was really a challenge since the outside lane had speedy dry around most of the track from when someone blew a motor during the race before us. Early on, the car was tight. There was really no where to go with cars stacked up in front. First and only caution came with 19 laps to go and Rob restarted 9th. After the green flag came out, the car was oddly loose in and out – not sure why. Rob ran hard but we didn't have the handling tonight to get by the cars up front. On the last lap, the 6 got into the 27 putting the 27 into the turn 3 wall – the 6 was then penalized. The 13 of Christopher pulled down his first SK modified win here at Waterford in 11 years. Next week, we're looking for a better run and for the playing field to be leveled with us being on same quality tires as the rest of the field. It will take 2 more weeks for our handicap to be back to normal.
Here's unofficial SK points and handicapping after tonight's race: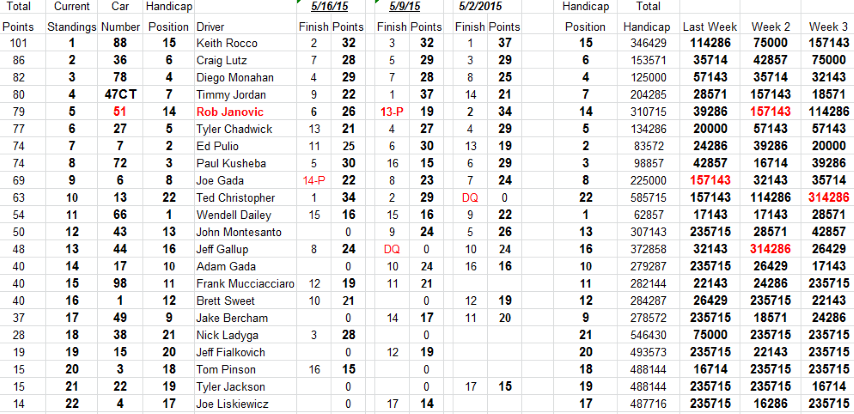 Don't forget about THIS week's special for General Admission tickets – just $5 for folks who live in towns starting with the letters R – Z – that's a great deal since it's a tour race event!!: