Category:
Waterford Speedbowl
Heats: Started 4th, Finished: 1st (of 8 cars)
Feature: Started 8th (of 21 cars), Finished 6th (Finishing Order: 88, 78, 6, 27, 13, 51, 38, 72, 44, 7, 98, 36, 1, 47, 66, 62, 15, 49, 3, 85)
Comments:Beautiful but chilly (51 degrees at 8 am) weather for this Memorial Day Weekend. THANK YOU to all of those who have served and sacrificed for our country! Severe clear skys and sushine during the day and that means it will cool off quickly and the engines should make a lot of power. Practices were great and we were 2nd fastest of the first 2 rounds of practice – sat out the 3rd round.
Keith Rocco brought his son "KJ" over since he heard there was a race day opening on the 51SK team. KJ jumped right in like he'd been part of our team for years :)!!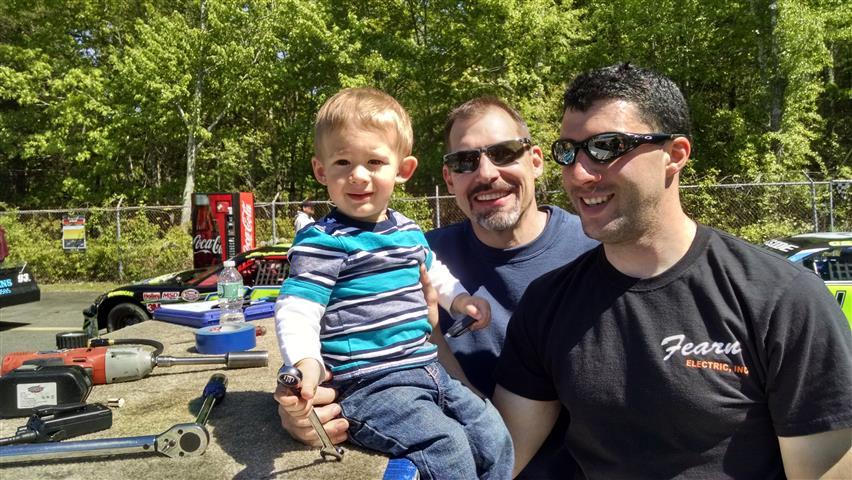 The heat race had 2 cautions. Rob got to 2nd ahead of the 36 of Lutz before the first caution (72 was leader). We found the outside groove isn't there on that restart and Rob lost 2nd to the 36 who ran hard inside.  The next caution came with 5 laps to go and positions were reversed with 36 outside pole and Rob inside in 3rd. Rob ran hard, cleared the 36, and he worked on the 72 who was fast. Rob got the inside advantage with a strong move coming out of turn 2 and completed the pass coming out of turn 4 to win the heat with a 1-2 car length lead on the field.  Here's the starting order:
7 – 6
72 – 78
27 – 36
1 – 51
88 – 44
38 – 13
66 – 47
15 – 62
98 – 85
17 – 3
49
---
Feature was a challenge with 2 cautions and the cars up front bunched up tightly. When race was over, I couldn't believe there was a big wreck with the group up front getting ugly. It appeared the 7 was having his hands full as he was in the middle of the track for a while before dropping back from his pole starting position (finished 10th). The first caution came with 25 laps to go and Rob restarted 8th and there was really no where to go. Rob favored following the inside row and that didn't work out as the outside had some openings that 88 of Rocco took advantage of. The 78 of Monahan was maintaining 2nd place, but at the expense of leaving a lane for those behind him to fill – plain ugly from where Rob was sitting. I'll try to post some video later if there's anything that's interesting. There was a final restart and Rob started 6th. The car was pretty good for most of the race, but got free late – we'll fix that this week at the shop. Here's the current points picture (51SK is 3rd in points):