Category:
Waterford Speedbowl

Heats: Started 3rd, Finished: 1st (of 7 cars)
Feature: Started 8th (of 20 cars), Finished 6th (Finishing Order: 13, 88, 27, 6, 36, 51,78, 44, 98, 66, 15, 43, 49, 17, 3, 72, 47, 4,7, 1)
Comments:Another beautiful day for racing! Weather is decent with it being partly cloudy – tad cool with temperatures just 68 degrees at 12:30pm. Wishing our driver Rob Janovic, Jr. a happy birthday today ! Should be interesting to see how the track changes with the mod tour here today. I suspect they will lay a lot of rubber down on the inside groove making it tight but that will leave very little grip on the outside groove. That will be a challenge for the chassis setup since one needs to be able to run the outside to move forward but then a setup that makes that possible will likely make the car tight when running the inside groove.
Practice rounds were really odd. The track had something on it in turns 3/4 and it made ALL cars get crossed-up loose on corner exit. It got better after rubber got put down on the racing surface. We made changes to the chassis for 2nd round of practice and it was still free (not typical for this chassis). We made even bigger changes for the heat (springs/shocks/stagger) and were hopeful for a good run in the heat.
Heat race showed we made the right adjustments as Rob drove under the leader coming out of turn 2 on lap one to take the lead and run out to a 6-8 car length advantage and pulling down our third heat win of the season. This are important points earning events that will help make up for the 11 points we lost in the 2nd race of the season for the tire registration error (see below).
Feature lineup presents a challenge right away as the Mod Tour impact on the track is there will be no outside groove. Here's the lineup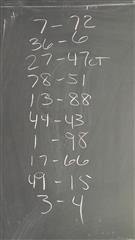 Feature race wasn't that good. First caution came with 4 laps complete when the 78 spun on to the infield of the back chute and Rob restarted 7th. Next caution came with 27 laps to go involving the leaders and Rob restarted 2nd and the 13 of Christopher was on point. With 23 laps to go Rob restarted 3rd after the 98 spun. With 14 laps to go Rob restarted 3rd. The car was finally doing something different after all the changes, but we went too far and the car was really tight through the turns. This shaves speed off the car and it gave competitors an edge to the inside and many got by. A final caution came setting up a green white checkered and Rob restarted 6th.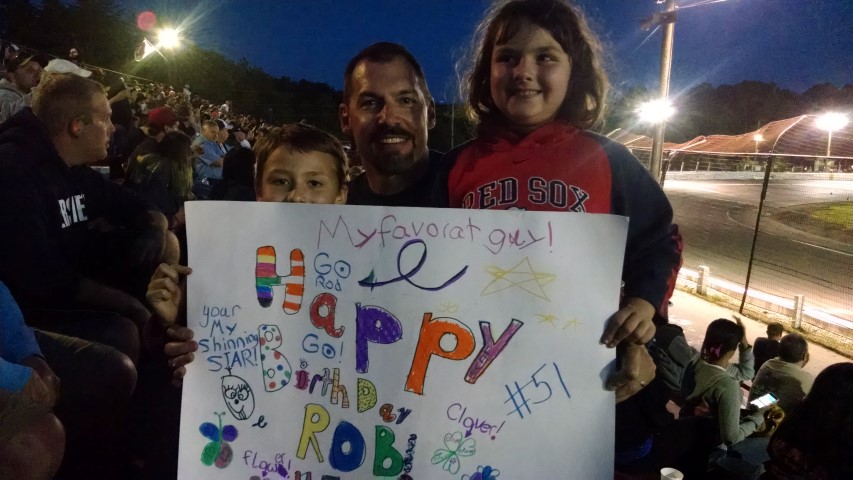 Here's Sid's video of the Mod Tour race – it was awesome to watch as a fan and not to have crew duties during the race: