Category:
Waterford Speedbowl
Heats: None –
Finish Feature From 5/14: Started 10th (of 27 cars), Finished 5th (Finishing Order: 78, CT21, 72, X81, 51, 06, 13, 98, 27, 32, 94, 15, 19, 9, 88, 3, 04, 22, 1, 8, 44, 16, 54, 17, CT47, 55, 85, 7)
Feature 2:   Started 7th of 27, Finished 8th (Finishing Order: 04, 13, 22, 88, 06, 32, 21CT, 51, 78, 98, 15, 19, 72, 27, 43, 3, 94, 9, 1, 81, 47, 49)
Comments: Starting 5th to restart/finish the 5/14 feature that was cut short last week due to rain. Overcast conditions and potential threat for rain again will make drivers push to make moves early.  Front row is occupied by the 78 of Monahan and outside in 2nd is the 13 of Christopher.  This will be VERY interesting to see if we can get this race finished without any wrecks up front.
Feature #1 was OK. First caution came on lap 1 and Rob restarted 5th. There was some hard racing coming out of turn 4 and the 13 spun to the infield. With 15 laps to go Rob restarted 5th. Unfortunately, the car was very free in/middle/out of the corners so Rob had to be very easy on the throttle and had to not overdrive the car going into the turns. There was a wreck on the front chute that Rob got through, but not without using the chrome horn below (obviously that's junk now):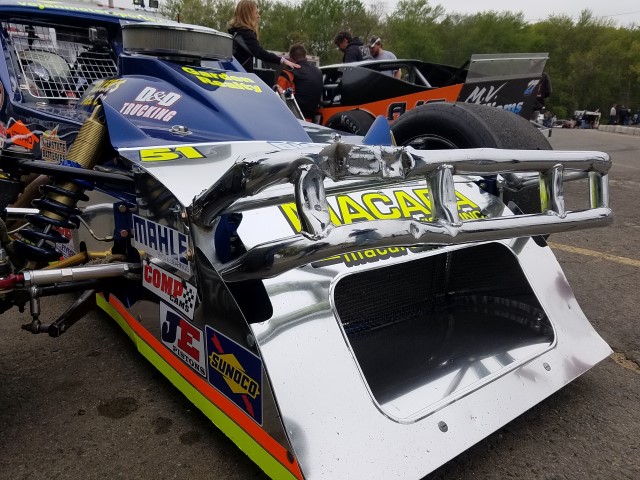 Second feature we were hoping for a better handling car since we had a shot at adjusting to the track, but that didn't turn out to be the case.  First caution came on lap 1 and Rob restarted 9th. Next caution came with 32 laps go go and Rob restarted 8th.  The field was stacked up 2×2 for the most part and Rob's row came back a little with no place to drop in so we lost positions. There was finally some open racing, but we soon found the car was still loose on corner exit and Rob did his best to not overdrive the car. Next caution came with 19 laps to go and we were the caution car after there was contact between Rob (inside) and the 6 and that sent Rob to the infield and then we pitted for adjustments. Rob restarted at the rear of the field in 17th position and then ran hard with a better handling car picking off cars one by one. Cracking the top 10 proved to be more difficult as we simply didn't have enough steam to get by the 21. On the last lap, something happened up front and the 27 ended up in the turn 3-4 wall and he lost positions to end 17th. At least the car is in one piece. We definitely have some work to do.
Rob's #1 fan gave him a little encouragement between the 2 features: