Category:
Waterford Speedbowl
Heats: Started 4th (of 8 cars), Finished 3rd
Feature: Started 1st (of 25 cars), Finished 3rd (Finishing Order: 88, 13, 51, 06, 16, 21, 27, 04, 8, 15, 54, 47CT, 3, 85, 19, 9, 78, 22, 72, 32, 44, 47CT, 40MA, 21CT)
Comments: Weather was not cooperating with the schedule's early start today as showers held up the show for nearly 2 hours this morning. Practice rounds gave us a good read on the car and finding it very stable was a good sign.
Heat race was uneventful – car was a tad free on corner exit preventing Rob from pressing ahead, so we were content to take 3rd with nearly a 10-12 car length lead over the 3rd place finisher. Heat race lineup before the "re-draw" has us starting 7th.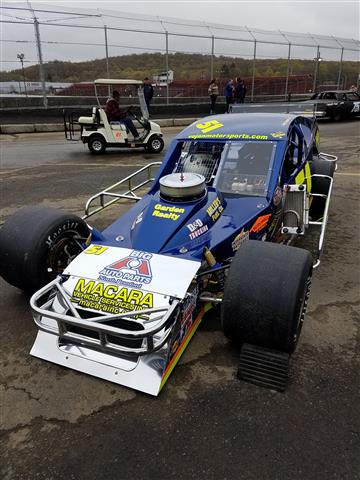 Feature races were cut short Sat. night by drizzle so the 7 remaining features were run Sunday after the morning showers passed.  The top 12 redrew starting positions and Rob picked #1 so he started on the pole for the main event.  First caution came with 24 laps to go and Rob was still the leader – outside was 78 and the 06 was third.  With 23 laps to go there was a BIG wreck on the front chute involving the 32, 44, 85 and others – Rob was still the leader.  With about 10 laps to go, the 78 did a crazy move trying to dive bomb going into turn 1 (WAY below the white line almost in the standing water of the infield) and he made hard contact with the left side nerf bar sending Rob chasing the car up the track only to regain forward momentum after falling back to 4th. With 8 laps to go – karma struck the 78 when his right front tire (damaged from the contact with us 2 laps prior) went down and he made hard contact with the front chute wall.  Rob restarted 3rd and then brought the car home in 3rd for a podium finish to start off the 2016 racing season.
Here's Sid's view of the incident: