Category:
Waterford Speedbowl
Heats: Got scrapped due to long delay for turn 2 gate repair after a mini stock wreck.
Feature: Started 9th  (of 22 cars), Finished 6th (Finishing Order: 88, 21CT, 13, 6, 27, 51, 21, 9, 78, 25, 47ct, 22, 98, 94, 94t, 66, 3, 72, 81x, 32, 41ct, 17)
Comments: After thinking last week was the hottest day of the year, I was wrong! Even hotter being 108 degrees in our pit stall today!
The practice rounds were good in the sense that we found that last week's ill handling was actually a bad set of tires. When we put new set on, car was "there" at the top of the speed charts 2nd to Rocco (who has  blistering fast lap):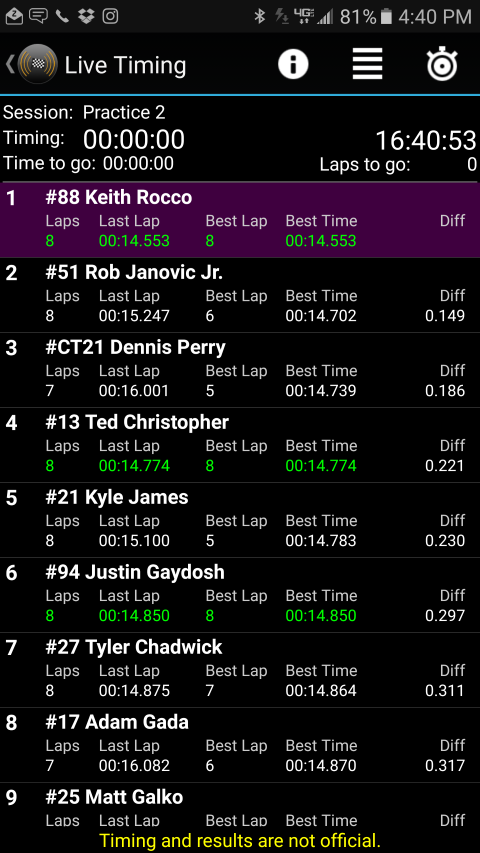 Without heats, it was a crap shoot on what to do for feature setup. Initially, there was simply no where to go and the cars were 2×2 and actually, the inside row was coming backwards! First caution came with 27 laps to go and Rob restarted 10th. Car was good, but just needed a little room to make some moves. Next caution came just 1 lap later when the leaders wreck in turn 3/4 with 26 laps to go and Rob restarted 5th. Race ran to the checkered from there. The 9 held Rob up for a while and then it was too late to make any further moves since the car was just a tick tight off corner exit.
Being that the car is really close and stable, I'm happy overall despite not achieving a podium finish. We'll look for better performance next weekend when we have double features! Make-up race we know we are starting 7th and we time trial for the 2nd race next weekend.