Category:
Waterford Speedbowl
Heats: Started 2nd (of 8 cars), Finished – 4th
Feature: Started 4th (of 24 cars), Finished 2nd (Finishing Order: 72, 51, 21CT, 06, 81X, 16, 13, 27, 04, 15, 25, 22, 44, 1, 19, 32, 94, 47CT, 78, 9, 3, 88, 17, 8)
Comments: Practice was really good. Car was tick free during 1st practice and tad tight on 2nd practice when Rob laid down quickest lap of the day for all SK's – it's been a while since that has happened. Track still seems to have lost grip since last year as we would normally see lap times into the 14.1's and 14.2's by now.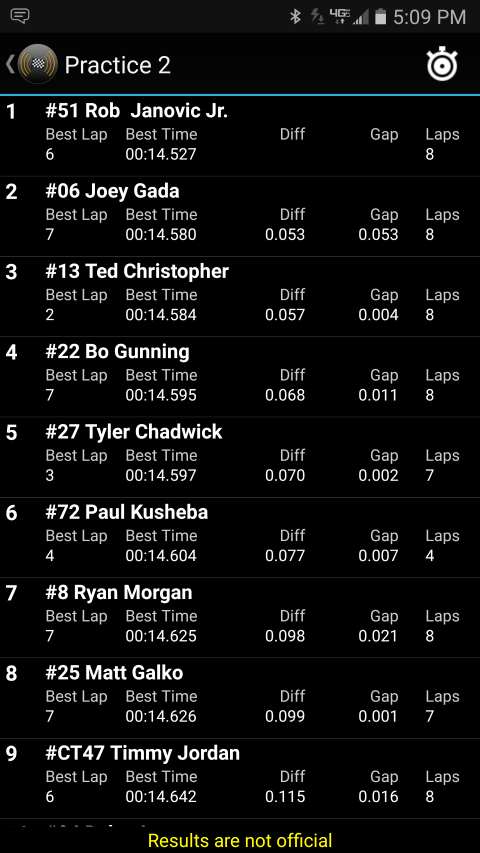 Heat race was a challenge starting outside pole since there is no outside groove yet. Rob got an opening to fall into and we were content to finish in 4th as the car shifted back to loose in/out.
Feature will be a challenge again as we're starting 4th (outside row again – we have started all but 1 feature in the outside row). Well, all turned out fine as the car was great and Rob did an awesome job hanging tough on the outside early in the race. The 78 pinched Rob into the front chute wall early so he had to lift, but then he raced his way back to 2nd. First caution came on lap 2 and Rob restarted 2nd. Next caution came with 26 laps to go and Rob restarted 2nd. The 72 who was leading was really fast tonight. Only thing that I wasn't expecting was that the race officials let 72 consistently start early before his car was in the "starting box" (see VoJan GoPro footage video below). That kept giving him a little edge on restarts (not that Rob was any quicker, but it may have given Rob what he needed to make an outside run). Next caution came with 11 laps to go and Rob restarted 3rd. With 8 laps to go Rob restarted 2nd again. The final restart came with 5 laps to go and Rob restarted 2nd again. Overall, great night with a podium finish and the car was very stable. Congrats to the 72 team for their first SK win – awesome run!  We hope to do better next week!
Sid's View with multiple car angles:
Just VoJan GoPro Footage