Category:
Waterford Speedbowl
Heats: None – Handicapping set the starting positions for each feature
Feature 1: Started 8th (of 24 cars), Finished 5th  (Finishing Order: )
Feature 2: Started 8th  (of 22 cars), Finished 8th (Finishing Order: )
Comments: Severe clear weather is great for fans, but the track conditions should change drastically from day to night. We'll work hard to keep up with the changes.
Practice was great – car was stable and pretty darn good. Rob set fast time in practice :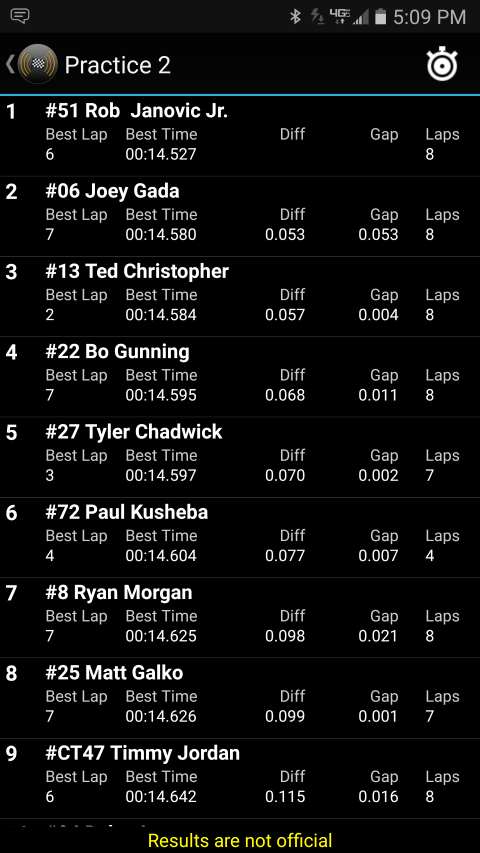 First feature was OK. Race started with some outside row backsliding so that wasn't fun. 1st caution came when the 78 of Monahan came down on somebody in Turn 3 from second but he was not clear and  a little further back in the pack that put the 13 of Christopher hard and did it turn 3 wall resulting in a DNF for the 13. Rob restarted 7th and we found that the car was free off early. Next restart was with 20 laps to go and Rob restarted 5th. The final caution came with 13 to go and robbery started 7th and drove hard to get a fifth-place finish.
Sid's View of Feature 1:
Feature 2 – Frankly, we were lucky to finish that race. There was a wreck on lap 1 with the 47 sustaining hard damage on the back chute and with Rob starting 8th, we were just 2 cars back from where he hit the wall and Rob's right front spindle got bent via contact with the 21. Here's slow-motion video:
Sids View:
Rob restarted 7th after that lap 1 incident. Before the next lap got completed, 13 the leader somehow got wrecked on the front chute via contact with the 22. That is the 2nd wrecked race car for the 13. Rob restarted 6th with 24 laps to go. Next restart was with 18 laps to go and Rob restarted 6th. Final restart with 6th laps to go Rob restarted 6th.  To finish 8th with a damaged race car is better than not finishing with a wrecked race car. Hope to do better next week before the summer weekend break (New London Fireworks weekend).