Category:
Waterford Speedbowl
Heats: Started 2nd (of 7 cars), Finished 3rd
Feature: Started 6th (of 22 cars), Finished 8th (Finishing Order: 88, 13, 06,78, 27, 47ct, 72,51, 2ct, 2, 47, 43, 98, 66, 15, 9, 85, 51ct, 04, 7, 3, 20)
Comments: Tonight's racing brings to a close the 2015 points season and we'll have a couple of races later in October that are non-points events. Today is cool and partly cloudy which should make for a fast race track tonight. The big unknown for the 51SK crew today is whether or not the chassis will handle like it should. We'll know more after a couple of practice runs. If it's still off (something is bent), and we'll simply get what we can in tonight's race and then rotate to our "B" car for the last 2 races of the year.
Practice round 1 was utterly terrible (bench chassis?). I changed a shock and a couple of other things and strapped on sticker tires then we went out for practice 2…..a totally different car. Big question remains is the change due to tires OR is it chassis changes? We'll find out quickly during heat race starting outside the 78 who's on the pole. Here are the top practice times for today (13 of Christopher was driven by Keith Rocco just for practice as Christopher is in Louden, NH racing in a tour race):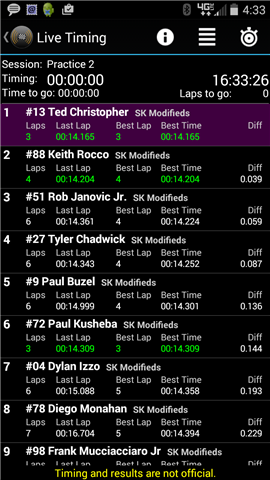 7:00pm – Heat race was OK. The initial start wasn't a good start for the 51 and the 88 of Rocco dove under the 78 on the back chute. Car was remarkable stable so perhaps our handling early today and in last week's feature was just a tire issue OR the shock we changed. Feature lineup will be a challenge with some slower cars in the front row and temperatures diving into the 50's. I'm expecting the track to get free with the colder temps so we'll intentionally make some adjustments for that change in track conditions.
10:39pm – Feature race was not good – chassis just wasn't where we needed it to be.  Big wreck happened on lap 4 with 5 cars wrecked in turn 3 – Rob restarted 3rd. The car just got free on corner entry and that was the end of us running up front. There was another caution with 4 laps to go I believe and Rob restarted 5th and finished 8th.
We end the points finishing 5th in points (88 of Rocco wins his 3rd consecutive SK Modified championship, 27 of Chadwick finished 2nd in points, 13 of Christopher finished 3rd in points and the 78 of Monahan finished 4th in points). We'll be back later in October for Bemer's big show and will look to have fun in both the Tri-Track Tour event and the SK Modified race.
Thanks to all of our sponsors and fans and we look to return in 2016 with better finishes and consistency.